With increasing frequency technology makes such forward leaps that it can no longer be ignored.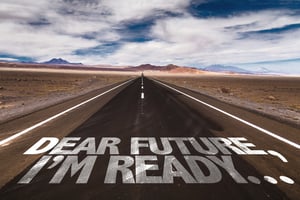 When was the last time you saw a horse drawn carriage plodding into town for the weekly shopping trip, for example? Automobiles are all the rage now! That example will be too dated for most readers, so how about this one: did you know that rural families in certain areas are now considered oppressed because of the lack of internet availability in their area? Before dismissing that as silly, consider all the services you access through the internet. Imagine a life without internet access in today's wired (or is it wireless?) world. Most of us could hardly function if we were permanently offline because so much business is conducted online, not just generally through the internet, but more specifically on smartphones through the internet.
It is for this reason that Trinitas has recently completed its own technology upgrade. You will notice that we have a new website. Our previous website was from the era when a website was a static form of communication, just one among several other forms of communication that told the story of a product and gave more information but did very little else to engage visitors. Such websites were accessed through computers and perhaps never revisited once the desired information was extracted. But those days are over, and like the fellow in the horse drawn carriage, we could no longer ignore the technology that was zooming past us every day!
Our new website is smartphone friendly and interactive, providing means for visitors to communicate with us, make specific requests, even schedule appointments. This new site is one that we can update frequently as our school changes and grows or as we discern changing needs among our constituents. What you may have noticed already is that our new website allows us to communicate with you. Our blog will have a different look when it comes to you through this new website every week, and as we get better at using the tools that come with this new site, we hope to continue to improve it and keep it fresh for you.
You can expect to see a blog from us pretty much every Monday, delivered through our new website. We will be writing not only to Trinitas family members, but also to those outside of Trinitas, both those who are interested in continuing the conversation about classical education and Christian parenting as well as those who want to join that conversation for the first time. With our blog and our new website, we hope to serve our community well by offering information, experience, even expertise that will serve as a valuable resource to Christian families in our area. We have parked our horse and buggy to hop in a sports car. We invite you to join us for the ride and to bring your friends along!

Ron Gilley