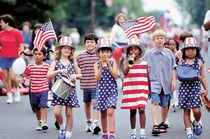 One hundred twenty-eight years ago, the United States Congress officially recognized the social and economic impact of American workers by, ironically, giving them a day off. Since that time, the first Monday in September has been a federal holiday often celebrated with parades, fireworks, and backyard barbecues. Acting as the unofficial end of summer, Labor Day might also represent the end of lazy summer living and the start of the demands of a new school year. Yet for the thoughtful Christian, even a secular holiday such as Labor Day should be cause for contemplation.
Is labor (or hard work) something to be avoided at all costs? When and how should a child begin to learn to work hard? What vice is associated with too much or too little hard work? What does the Bible have to say about work?
At Trinitas, we believe the answer to these questions is bound up in a proper understanding of the classical virtue of diligence. Beginning in the earliest days of a student's education, we use Scriptures such as Ecclesiastes 9:10a "Whatever your hand finds to do, do it with all your might" and Proverbs 6:6 "Go to the ant, O sluggard; consider her ways, and be wise" to encourage students to be diligent. Although even the youngest of students have the ability to remain diligent for reasonable amounts of time, it is most often those who have been trained toward diligence in their home that finds success in the classroom.
So how does a parent go about training toward diligence in the home? Let me suggest three simple strategies that have been helpful with my children.
First, let diligence define your family.
Create opportunities for your children to work alongside you. Of course, these little ones can't fold clothes as neatly as you can, but that isn't the point. How much more important is it for your children to value and appreciate the hard work that is required to keep them clothed!
Second, let kids do hard things by themselves.
A child who is not given plenty of opportunities to do hard things will not know what they are capable of accomplishing on their own. Of course, I'm not advocating that our children be packed off to the salt mines, but it certainly won't hurt little Suzie to make her own bed or little Tommy to carry his own backpack. As your child learns to be diligent, you'll begin to have hope that they just very well might be able to survive in this world once they leave your nest.
And thirdly, teach them to find joy in hard work.
Let's be clear about one thing – work isn't always fun. Remind your kids that work has existed since the beginning of time when God placed Adam in the garden of Eden and gave him a to-do list. Shortly thereafter, when sin entered the world through the fall, that's when work became something less than enjoyable.
As Christian parents, we help our children regain a bit of what was lost in the garden when we train them to work joyfully and with diligence. And in so doing, we will even find cause for a day of rest, a true holy day, a day that honors the God of all good rather than the American worker.