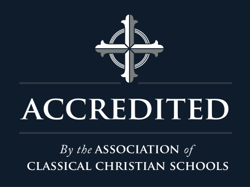 The Association of Classical and Christian Schools (ACCS) is the only accrediting body in the country that caters exclusively to classical Christian schools like Trinitas. Although the organization has over three hundred member schools, only a small fraction of those schools have met the rigorous standards required to become accredited. Trinitas has been associated with the ACCS since the school's founding over twenty years ago and has been an accredited member for over half that time.
Of course, a school doesn't have to be accredited to be a good school - there are many smaller classical Christian schools that offer an excellent education - but accreditation with the ACCS does assure parents that the school is committed to the highest standards of excellence in its pursuit of classical and Christ-centered education.
Parents who take accreditation seriously should ask if the school and the accrediting body are aligned philosophically or superficially. A quick comparison of the websites of the Association of Classical and Christian Schools and Trinitas Christian School will demonstrate that these two organizations are in lock-step when it comes to classical Christian education. Those wanting to better understand our relationship with the ACCS or how the accreditation process benefits their child are encouraged to read through the ACCS Membership Handbook.
In its pages, you'll see the answer the ACCS gives for the question "What does it mean to be a 'Classical Christian School'?"
Many educators view school as a mechanism that delivers content using an educational method. This results in the mistaken belief that "Classical Christian education" (CCE) simply means that the content is classical and the methodology is more traditional. CCE has deep footings that are distinct from modern schools, and even different from liberal arts or classical schools founded after the Enlightenment. There is no single recipe or formula for Classical Christian education. It is a way of educating children that developed in the Middle Ages as an outworking of classical Greco-Roman thought and Christianity. It flourished in the Reformation and thus has a rich and varied form. It starts with a different purpose and ends with different results than conventional education.
If you would like more information about Trinitas or classical Christian education in general, we'd be delighted to speak with you. Email or call the school office at 850-484-3515.