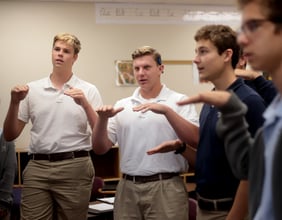 When teachers and administrators from other schools visit Trinitas, one of the things they love is that all of our students sing. Music is not an elective at Trinitas; singing is not optional. We sing to start the day, we sing in music class, we sing in other classes, we sing in choir, and we sing to end the day. It is not a spontaneous thing—though song does occasionally erupt unannounced—it is intentional. We work at it. Even those of us who do not naturally sing well work at it (even harder in fact).
Why all this hard work at something that is uncomfortable for lots of people? Because with few exceptions God has given us all the gift of voice, and what better way to use the gift than to praise Him with it! The Bible is chock-full of examples of God's people creating and then beautifully singing songs to God. It is also full of exhortations for us to do the same.
A main focus of our music program at Trinitas is for every student to graduate with the ability to read music well enough to sing a song he or she is unfamiliar with—in parts. We spend lots of time in our music classes learning to sight read and sing. In choir we put that into practice in a big way, always working toward performing a piece or a few pieces. If you've seen one of our concerts, you've seen the fruit of this work. We may not be the Mormon Tabernacle Choir, but we are working hard, having fun, and sounding pretty good. We are learning to sing beautifully and hope that it pleases God to hear us.
Another place we work hard learning to sing is in Morning Meeting. Our Morning Meeting is a time of confessing our faith together, hearing God's word, and devoting our day to Him, but it is also a time of singing praises together. Perhaps you have been to Morning Meeting at Trinitas and have seen Mr. Varela teaching the whole school to sing a song in parts. If praises are worth singing, they're worth singing beautifully. That's why Mr. Varela may spend several days teaching parts of a song to the whole school before we ever actually put it all together and sing the song in its entirety.
With few exceptions, we all have a voice, and our voices can be employed in no higher calling than beautifully singing songs to God. And where else are students learning to do that? Reading music and singing is an art that seems to be losing its importance among the masses in exchange for the acquisition of more practical, utilitarian skills. Not at Trinitas! We learn lots of practical skills, certainly, but we also aim to graduate students who live beautiful, Gospel-centered lives, students who are able to do a great variety of things beautifully—not the least important of which is singing. We can hardly hope for anything better than that our students would bless their families, their churches, and their Heavenly Father with beautiful singing.