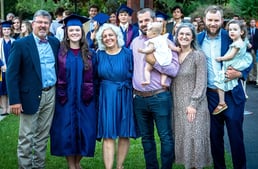 With very few exceptions parents of students in classical Christian schools are not classically educated. Many of us, probably most of us, attended and then graduated from government schools or traditional Christian schools. By God's grace, though, we have found a better path for our children.
One of the best things about classical education is the idea that parents can be educated alongside their children.
That's what happened in my family. Before my eldest son was born, I began teaching in a classical school and realized that my own education was sorely lacking. I knew I had to get busy if I was going to stay ahead of my students and provide a classical education for my own children.
As a teacher, I attended conferences and read widely, but the classical education that my wife and I are receiving really began with our kids in the grammar school at Trinitas. We sat with them while they did homework and helped them when they needed it. We read their library books with them. We have had the most unbelievable dinner table conversations and evening discussions, which is probably the best part. We have read a lot of what they read in class. Because we only rarely are able to attend class with them, we don't get the full experience, but to some extent, my wife and I are experiencing classical education alongside our children—and we're not alone.
Over the years, a number of Trinitas moms have attended Latin and Greek classes or Traditio classes. Those moms may have been motivated by a desire to help their children with those classical languages, but there is so much more to learn than language. Many Trinitas parents have discovered that secret and have begun to learn alongside their children. Even now, there is a group of Trinitas dads who meet monthly to read great books - some of which are on their kids' classroom reading lists.
I encourage you to get into what your child is studying. Go back to school. We have lots of ways to help Trinitas parents educate themselves: read through the books your child reads in class—we have them in the library! Read his or her library books before turning them back in. Sit in on classes. Participate in every feast day that you can. Attend the monthly Parent Traditio evenings. Even better, attend the one-day summer ACCS conference with our teachers at Trinitas in July.
The truth is that's what Trinitas parents are supposed to do. Did you know that was part of the Trinitas Vision? Here is the third paragraph of the vision from the Family Handbook:
We aim to cultivate in our parents a sense of responsibility for the school; to see them well informed about the goals of our classical and Christ-centered approach. We desire them to grow with the school, involved in and excited about the journey. We aim to help them to follow biblical principles in addressing concerns, to be inclined to hearing both sides of a story before rendering a verdict, and to embrace the Scripture's injunctions to encourage and stir up one another to love and good works.
The founders of the school envisioned a learning community of parents, teachers, and students learning together, encouraging each other, living in Christian community, and championing classical Christian education. Did you know that a top priority for board members is to understand and be fully committed to classical Christian education? While many schools choose board members for how much money they may contribute to the school or for how much influence they have in the community, Trinitas looks for people who understand and are committed to classical Christian education.
It is unlikely many parents will have a chance to go back to school and receive a classical education. We can, however, embark on the classical education journey with our children—the whole family learning together and in a community of families doing the same. I encourage you to take up that pursuit; you'll soon see how much you've been missing, and your dinner table conversations will be epic.