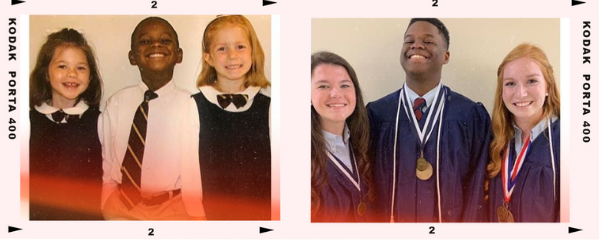 Rather than a random group of dots, the various facets of education should connect like a column of ants traversing a picnic blanket. Last Friday, I had the privilege of watching junior kindergartners retelling four classic fairytales using student narration and finger puppets. Later that evening, I listened to three students present and defend their senior thesis projects. Contemplating these examples drawn from the beginning and end of a Trinitas education is worthwhile for thoughtful parents serious about the kind of education they want for their children.
Because children love stories, there is no better way to calibrate their inner moral compass than by treating them to a steady diet of stories from their earliest days. Nursery rhymes, fairy tales, classic fables, and Bible stories cultivate their imagination and foster virtue formation. In their study of Billy Goat's Gruff, Little Red Riding Hood, The Three Little Pigs, and Goldilocks and the Three Bears, these cute four-year-olds have vicariously gained experience in obedience, diligence, kindness, contentment, and courage.
The medium of finger puppets enabled the students to engage with their characters and demonstrate their comprehension of each story in turn while their classmate excitedly narrated the action. Such enthusiasm! Such courage! Even from their first day at Trinitas, students are trained away from innate shyness and encouraged to love their neighbor by giving themselves to others through eye contact and confident verbal exchanges. This intentional training is called upon many times in classroom recitation, dramatic presentations, and oral examinations.
Many other lessons could be noted from this classroom observation – not the least of them the caring, creative, and kind teacher at the helm of the activity – but I'd be amiss if I closed the door on the scene without noting the parents and grandparents in the audience for this simple presentation. An essential ingredient in the Trinitas recipe is parent engagement. Whether to peel potatoes for stone soup, to shape ice into snowballs, or just to laugh and clap when the troll gets headbutted off the bridge, Trinitas parents show up and engage.
Later on the evening of the same day, I found myself listening to a senior thesis presentation. The culmination of research that began in their junior year, these students made a seven-minute presentation and then defended their theses for forty-five minutes before a panel composed of faculty and board members.
Drawing upon extensive reading from both within and outside their classes, Trinitas students begin their research with a great idea and then develop a thesis. Along the way, students draw upon the classical rhetorical skills they are taught to persuade readers and listeners to their argument founded in truth and sustained by logic. Bolstered by confidence drawn from many public speaking opportunities and supported – once again – by their parents and invited guests, seniors pursue wisdom and demonstrate the virtues that have been trained into them.
Saying goodbye to these gifted young men and women in a few short months will be equal parts challenging and exciting as several have been at Trinitas since their finger puppet days. But we will say goodbye - albeit with misty eyes. Because like their parents, we have been preparing them for the next chapter of their story since "once upon a time."