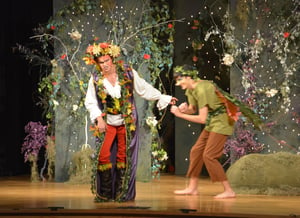 With drama underway, it seems like a fitting place to unpack the pursuit of Truth, Goodness, and Beauty. On the stage students are called to imagine life from another perspective. Students wrestle with not only what someone says, but how they say it and then why. Actors humble themselves and explore a nature not their own. In this putting on of a character, students are able to actively pursue the true, the good, and the beautiful.
When the cast list is posted, students often have no idea who their character is, or even the plot of the show. As Nick Bottom asks when he is cast as Pyramus, they also ask: "Am I a lover? Tyrant?" And so, their pursuit of truth begins. This is a research stage. They learn their lines, their blocking, their role in the story. Searching for truth is full of what and how questions as each student steps into the shoes of another soul. There is much investigating, probing, studying, as the students do their due diligence to prepare for a true and faithful imitation.
During week seven of rehearsal, we move to the pursuit of goodness, which I suspect has two parts. In the first part, the students investigate further into their character with why questions: "Why is my character disgruntled at the beginning of the show? Why is my character exiting the stage? Why does my character say these words?" Students connect action to motive, effect to cause. The second part of the pursuit of goodness looks more like a character analysis. Students dig deep into their characters and judge: "Am I a good guy or bad guy? Am I a means of justice in the plot? Am I the prideful man who ought to fall?" And thus, students get hands on practice with the tools of narrative and grow in wisdom.
Now, it is time for production, for beauty; the labor bears fruit. In this phase students hone and polish their performance. They find themselves back at the what and how questions again, but this time it is, "How can I express faithfully and truthfully the thoughts and motives of my character to my audience? How can I give a gift to my audience?" Often beauty is expressed on stage as fitting together and then faithfully representing truth and goodness, which includes a faithful representation of the antithesis to truth and goodness so that real truth and goodness may be better known; for example, the darkness of a villain is a necessary element of tension to tell the truest story.
As a cast, the students put all these elements together--beautifully. And now, it's show time!