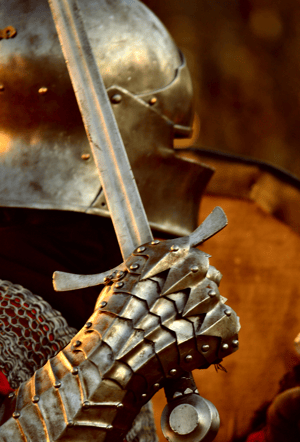 A Trinitas board member sent me an interesting article recently, entitled "When Knights Surrender Their Swords, Beasts Will Devour Maidens." The author, Paul Bois, has written hundreds of articles expositing the Christian perspective on a host of political and social issues. I haven't read them all, but this one had a solid message.
The subject of the article was this Weinstein fellow who is in so much hot water recently for taking advantage of young women in the movie business. I have little to add to that conversation, but I do want to comment on Bois's theme. Reduced to its essence, his assertion is that this sort of thing is happening in our society because we allow it.
Indeed, quite a few men have admitted they've known what Weinstein was doing for years. It appears they kept their mouths shut about it, not because they thought it was an okay thing for Weinstein to do, but because they were afraid speaking out would hurt their careers. These would-be knights surrendered their swords to save their careers, and the beast Weinstein devoured the maidens while the unarmed and emasculated knights watched on, complicit.
Now, before we skewer these guys—and don't get me wrong, they need a good skewering, but before we do, let's examine ourselves shall we? In the words of the Anti-Weinstein, "He who is without sin among you, let him throw a stone at [them] first." In what ways have we kept our mouths shut or looked the other way to preserve peace or pocketbook? I doubt anyone reading this knows Mr. Weinstein, but other situations come up frequently in our own lives that present us with the choice of standing for right at some risk, or keeping quiet and remaining comfortable and safe. Francis Schaffer, whom I reference frequently on this issue, put forth the idea that Americans have become enslaved to peace and affluence and that we will do little to jeopardize it. That stings. Is Schaffer right though? Have we become sellouts? Have we surrendered our swords for the comfort of the enemy's dining hall?
Proverbs 21:3 says, "To do righteousness and justice is more acceptable to the Lord than sacrifice." One of the things we hope to do at Trinitas is help our students see that they serve a great Master who is a Righteous and Just Judge, and that they are to be like Him. That is why it is important for Trinitas to graduate students who take up the cause of the widow and the orphan and the poor and the needy and the weak and the defenseless and the oppressed. We hope to graduate students who do righteousness and justice even when it costs them something. Putting the cause of Christ before peace and affluence sounds dangerous to American parents—I know because I am one—but it is exactly what we are called to do. At Trinitas we are working to make sure we don't graduate unarmed knights or knights who surrender their swords.