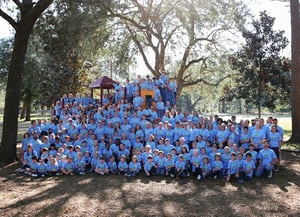 Last week Trinitas Christian School held its "Love Thy Neighbor – Great Day of Giving" event. It was only our second year for this event, but I hope it is one that Trinitas will continue and even build upon long after I am gone. About 250 students, teachers, parents, and alumni descended on the Pensacola community to tackle service projects that ranged from stocking food pantries and soup kitchens, to performing maintenance tasks at foster care facilities, to cleaning up neglected yards for the elderly. It was a great day, and Trinitas folks returned to school at the end of the day happy and blessed.
The kind of service our students performed for our neighbors in the community is just the kind of feet-to-the-Gospel action we hope becomes part of the DNA of Trinitas students. We want to graduate young people who are community-minded and service-oriented. Why? Because when the Pharisees asked "Which is the great commandment in the law?" Jesus answered, "You shall love the Lord your God with all your heart, with all your soul, and with all your mind" (Matt 22:36-37). But Jesus did not stop there; He took them further than they had asked to go, saying, "And the second is like it: You shall love your neighbor as yourself" (Matt 22:39).
We know that the law books of the Old Testament are full of laws about loving your neighbor. This is no new idea Jesus is bringing to the people in the first century, but an everlasting principle given by YHWH. And it is interesting to me that Jesus later shows us just how this works. After saying the second great commandment is like the first, He explains how loving your neighbor is loving God. At the end of Matthew chapter 25 Jesus tells His followers how the Son of Man will judge the nations. He praises the righteous because they fed Him when He was hungry, gave Him drink when He was thirsty, took Him in when He was a stranger, clothed Him when He was naked, and visited Him when He was sick or in prison. Those being judged asked when they had ever seen Him in such a condition or done those things for Him. The reply is one of Jesus' most memorable sayings: "Assuredly, I say to you, inasmuch as you did it to one of the least of these My brethren, you did it to me" (Matt 25:31-40). In this passage Jesus moves beyond the simile he used earlier and now makes serving your neighbor the same as serving God. Love for neighbor is love for God.
It is a fine thing for us as Christians to tell God we love Him, and we should do it every day. But it is a finer thing still for us to show Him we love Him by walking in obedience to His commandments. We will continue to teach reading and writing and arithmetic at Trinitas at just as high a level as we possibly can. Christian children should be the best educated children in the world, after all. But if only one thing could remain of all the things we teach, I would choose Jesus' first great commandment as well as the second great commandment which is like it. Love God, and love your neighbor!