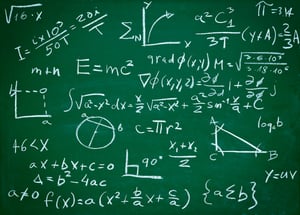 Last week I revealed that 92% of Trinitas alumni reported they were well prepared for college. Of the few that didn't feel prepared, four Trinitas alumni stated they started out behind their college classmates in math; two of them were engineering majors, and the other two did not mention their majors in the response. This week, I will explain why they may have started out behind and also talk about where classical students stand in math compared to students in a modern, STEM-focused education model.
I for one am not surprised these Trinitas alumni started out a little behind in math, and if we had communicated better, they might not have been surprised either. Let me explain. While a classical education is a broad education, exposing students to many things while equipping them with tools to help them learn on their own, the modern education focuses on specialization. Again, in recent years modern education has been specializing in STEM, especially math. Students coming out of even a good public school will have spent more contact hours in math and science—a lot of that time using advanced technological tools in the classroom—than students coming out of a classical school. That is by design of the modern school and the classical school, but it isn't because classical schools despise math; it is more because modern schools revere math ahead of language or history or writing or anything else. In the first semester of engineering, then, a student from a good public school could be ahead of a classical student in math because the public school student will have focused on math while likely being short-changed in other subjects.
There is a bright light at the end of the tunnel for classical students, though, and that is the part we have to make sure our Trinitas graduates understand when they leave. The bright light is that classical students can think and learn on their own. For that reason, classical students who start out behind will make up the ground and surpass their modern educated college classmates soon—even in math. There is a great story from the early twentieth century about a famous German Chemist, Bauer. When interviewed by a colleague, the chemist reported that all of his students from the modern school started out ahead because they had been specially trained in chemistry, but that the students from the classical school surpass them within three months because they have "the best trained minds" (quoted in Wilson 89). Bauer went on to say, "Give me a student who has been taught his Latin Grammar, and I will answer for his chemistry" (ibid).
So yes, classical students may well start out behind specially trained students in any specialized field—not just math or science fields—but they will catch up and move ahead quickly because they know how to think and learn—they have better trained minds.
And seriously now, are classical schools and Trinitas in particular really doing a poor job teaching math? No, and I have some statistics to demonstrate my point. On both the 2015 and the 2016 SAT (the most recent years we have completed data for), students in member schools of the Association of Classical Christian Schools outscored students from all other types of schools in math. Classical students outscored not only students from public schools in math, but also students from independent schools and other Christian schools. To top that, Trinitas students had higher math scores than even those students from ACCS schools. Those statistics seem to demonstrate that Trinitas and other classical schools don't really have a math problem, per se.
A classical education will always be a broad based and thorough education, free from a lot of specialization. Classical students could be classified as renaissance students, proficient in many areas, capable of participating in a great many fields successfully. Classically trained students may well start out in college behind students who have specialized in a particular field while in high school, but classical students who understand the power of the education they have received will be on top soon in any field they choose.
At Trinitas we are always trying to improve the quality of the education we are delivering to students—that includes math, which receives the same attention other subjects do. Our students finish with Calculus—I don't know of any high schools going further in math than that. But if I have learned from our alumni one area where we must improve even more, it is in the area of communicating to students and parents alike the advantage of a classical education over a modern education that specializes in STEM. Alumni, we hear you and we value your feedback. Keep it coming so we can improve.
Works Cited
Wilson, Douglas. Recovering the Lost Tools of Learning. Crossway Books, 1991. Print.