Jesus said to him, "'You shall love the Lord your God with all your heart, with all your soul, and with all your mind.' This is the first and great commandment. And the second is like it: 'You shall love your neighbor as yourself.' On these two commandments hang all the Law and the Prophets." (Matthew 22:37-40)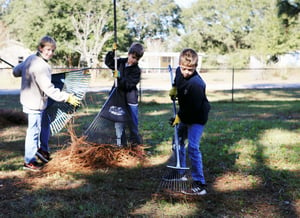 At Trinitas, we ask students to complete a minimum of 160 hours of service during their high school years. This amounts to forty hours each year—more is okay, less is not an option. In fact, to say that we "ask" students to complete 160 servant hours is an understatement; rather, it is a requirement of graduation. Completing 150 servant hours instead of the 160 disqualifies even the would-be valedictorian from graduating—the same as failing Traditio or failing to write and defend a senior thesis would keep one from graduating.
The reasons for requiring so much service from Trinitas graduates are so many and so varied that they can't all be addressed in this short blog post. One of the guiding principles, though, is Jesus' exhortation to followers to "love your neighbor as yourself." Truly, there can be no better way to love your neighbor than to put your own cares, desires, indeed your own will aside and take on the cares and troubles of your neighbor.
We can look again to Jesus for another guiding principle. His service was commonly to "the least of these" (Matt 25:40). He served prostitutes, tax collectors, fishermen, the sick, the lame, and other under-served, under-loved community members. The biggest part of His ministry was often spent in the service of those society had passed by or flat out rejected.
Another principle for servant hours at Trinitas is variety of service. Some students have opportunities to get more than forty hours each year on one project. On the one hand, that shows dedication to a particular ministry and is to be commended. On the other hand, there is so much to learn about the world and about the needs of neighbors that one can hardly even learn his or her gifts for serving if dedicating all servant hours to one project. Trinitas students are encouraged to engage in a wide variety of ministry opportunities not only as part of understanding what the needs are in the world, but also as part of discovering what their own gifts are.
Serving in areas of obvious giftedness is important, but so too is getting out of one's comfort zone to discover gifts and talents. The captain of the basketball team should obviously volunteer to run the free-throw competition at his church's summer camp. That job is in keeping with his skills and experience. But he should also consider leading a group of peers to regularly read stories or sing at the children's hospital even though that is a bit outside his comfort zone.
An often overlooked aspect of Christian service is the blessing received by the one doing the serving; instead, we sometimes dwell on what we have to give up in the service of others. More times than not, though, the one doing the service receives as big a blessing as the one being served. Last week I had the privilege of joining a handful of Trinitas students in a ministry project that definitely took them out of their comfort zones. They were visibly nervous going into the project, not only because of the uncertainty of what they were about to do, but also because of what it was costing them—they all had a ton of homework they laid aside to make time for this project. So how did it turn out? They all finished the project with huge smiles on their faces as if they were the blessed ones. One student even said that was the best part of his day. Oh, by the way, they all finished their homework that night too!
The filling out of those Trinitas servant hour logs is not merely a box to be checked by students; rather, it is the accountability mechanism for training young people to a life changing, virtuous way of being. One of the chief goals of servant hours at Trinitas is to cultivate a lifestyle of Christian service in our students. As Christians we are to love our neighbors. What better way to love than in true service to neighbor? We want Trinitas graduates to go on to serve for the rest of their lives as a normal part of living in the world as Christians.