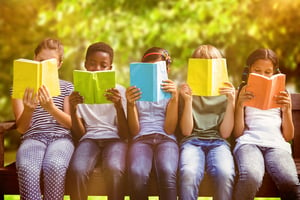 Once while introducing an author who was confined to a wheelchair most of her life, I asked a group of students, "What would you do with your time if you had to spend every day of your life in a wheelchair?" Here are the top three answers: 1) play video games, 2) watch television, and 3) sleep. No one said "Read" until I prompted them. The option of reading was simply an after-thought.
We want our students to be strong readers, right? Perhaps it would be helpful to review some practical tips for boosting our children's reading skills. Hopefully, you will find something helpful, not just for your grammar student, but for your logic student as well.
Have your child read aloud every day. Every day. Start with a short passage, and have him read it several times until he can do so with expression and ease. Take turns reading verses during family devotions. Have him read the week's History card in the car.

Read to your child every day. Expect him to follow along with you, not stare at you or look out the window. Be sure to read with expression, and expect him to imitate you.

Ask questions about what he just read. He should tell you all the details as though you haven't read it. If he does not understand what he just read, have him read it again.

Let him ask you questions about the selection he just read. Make sure you are reading along and paying attention so that his questions have purpose and are not just a game.

Have him summarize the selection without being asked questions. Students K-3rd grade will need to practice those sequencing skills: What came first, next, then, and finally?

Avoid the temptation to automatically say unfamiliar words for him. There is a great benefit in working through a difficult word. Remember, you want him to use the tools of learning, one of which is not a spoon.

Review graded tests and discuss not only content errors, but spelling errors as well. If your third-grader misses words like 'said' or 'asked,' that is an indication that he needs to read more.

Have him carry a book with him everywhere he goes. A couple of minutes here and there can improve his reading skills. Older students should feel a mild misery deep inside if caught having to wait somewhere without a book. We all know what it's like to have to read a pamphlet about bunion surgery while in the waiting room because we forgot to bring a book!
There are so many reasons for our children to be strong readers, not the least of them to be able to fluently read and understand the Scriptures. Strengthening your at-home reading program can help your child become a lover of the Word and a voracious reader.