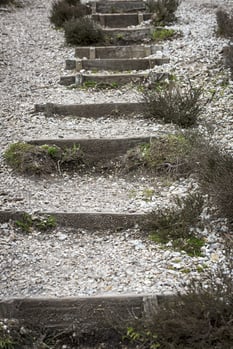 Last week during Morning Meeting our theme was "Direct My Steps According to Your Word." All week we read passages that spoke of God's great desire to see His people living according to His word. On Friday I told the students I used to know a preacher who had a habit of saying, "If you think all there is to the Christian life is getting saved and baptized, then as soon as you get saved and baptized we should take you out behind the church and shoot you." This was his crude way of saying to the congregation that Jesus hadn't saved them to sit around and wait for the rapture or the second coming or whatever comes next. They weren't saved for death, but for life.
That message the preacher thought so important for his congregation is also important for Trinitas students. That's why we talk so much at Trinitas about what it means to be obedient to God's word. When we are converted, we are changed. God, through the power of His Holy Spirit changes our hearts. Our eyes are opened to truths we never before were able to acknowledge, our hearts are suddenly oriented toward things we once shunned. For the first time ever, we want to read and study God's word, spend time in prayer, gather with His people in worship, love people we don't even know. But still there is more.
A heart changed through conversion is a heart open to more change, a heart in desperate need of more change. And that is why our Morning Meeting theme last week was "Direct My Steps According to Your Word." God has given us instructions for living life in this world and those instructions are to be found in the Old and New Testaments of the Holy Scriptures. To be a Christian who isolates himself from this powerful change agent is a half-baked Christian at best. We aim to saturate the Trinitas culture with the Word. We start Morning Meeting with it, we start our day in the classroom with it, we memorize it, we sing it, we study it, we encourage and correct with it. Our desire is that God's word would change us, further orient our loves, cause us to replace sinful desires and wants with God's will for us.
The world should see something different in God's people, something undeniable. We are not dead, zombie-like, pitiable creatures. We are saved to live an abundant life the unconverted world cannot imagine. And that abundant life should be so appealing to those on the outside that they cannot help but ask us to tell them what is different, why we have such spring in our step. We are saved for life, the life God calls us to in His word. Let us take it in, be changed by it, and live.