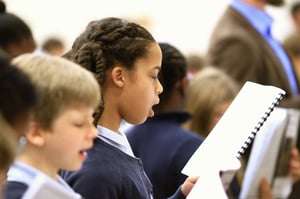 My father-in-law once told me that the saints of God will be the only ones singing in heaven. "What about the angels?" I asked. Without losing stride, he replied that nowhere does the Bible say that angels sing. They declare, they praise, they worship; he said, but they don't sing.
Now I've not checked all the references to determine whether or not my father-in-law's claim is true, but even so there is something important about his observation: the human voice is a unique instrument among God's creatures, and it is most uniquely played in the singing of songs.
Songs are powerful for a variety of reasons. They not only express, but they cultivate emotions. When we are sad, a sad song (preferably in a minor key) helps us heighten the experience of sadness and give it expression. Yet a bright song (definitely in a major key) may help draw us out of sadness. Songs also aid the mind to remember words. Trinitas grammar students sing songs to learn their history cards, math facts, classroom procedures, and other things. Many rhetoric students still remember the jingles they learned in grammar school. Most people can repeat the tunes and lyrics of songs we haven't sung for years.
But perhaps the chief potency of songs shows in their ability to unify people of disparate ages, places, and personalities into a corporate body coordinated in body and unified in soul. At a concert, or during enthusiastic congregational singing, one is transported, no longer conscious of oneself, but caught up into a corporate expression that is more than any individual could experience or express alone.
The power to unify people in this way is precisely what makes the singing of psalms, hymns, and spiritual songs so important in the life of God's body, the Church. The psalms, which are God's own songs for His people, are particularly powerful, since they proclaim truths about God that He has Himself declared. When Christians sing the psalms together, they are transported out of their denominational and theological identities and brought before God's throne, God's Creation, and the World as a witness to and foretaste of the Eschaton.
Singing psalms together is not only practice for eternity, but it is a declaration of the visible Gospel of Jesus Christ: there is a Bridegroom who has gathered this Bride: One Body, One Voice extolling the glory of the man whom God has ordained to judge the world in righteousness. When Roman Catholics, Southern Baptists, Presbyterians, Pentecostals, Eastern Orthodox, Seventh Day Adventists, Grace Brethren, Lutherans, Anglicans, and all other Christians join their voices to sing the psalms of God, we become on earth ever more nearly like what we will be in Heaven: the Bride of Christ proclaiming the glories of our Bridegroom.
Psalm 149
Praise the Lord!
Sing to the Lord a new song,
And His praise in the assembly of saints.
Let Israel rejoice in their Maker;
Let the children of Zion be joyful in their King.
Let them praise His name with the dance;
Let them sing praises to Him with the timbrel and harp.
For the Lord takes pleasure in His people;
He will beautify the humble with salvation.
Let the saints be joyful in glory;
Let them sing aloud on their beds.
Let the high praises of God be in their mouth,
And a two-edged sword in their hand,
To execute vengeance on the nations,
And punishments on the peoples;
To bind their kings with chains,
And their nobles with fetters of iron;
To execute on them the written judgment—
This honor have all His saints.
Praise the Lord!