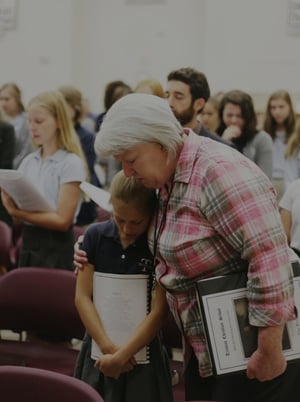 We began our school year at Trinitas last Thursday with an orientation day. It was delightful to see all of the new and returning students hurrying in with their new binders and books and backpacks, all excited for the year ahead. Seeing how much all of the returning students have grown over the summer break is always bittersweet—exciting because they are slowly but surely becoming grown-up human beings, and sad because we so love to the cling to the cutest, sweetest, youngest version of them. Parents do so love to reminisce about the history of their children. Trinitas teachers love to reminisce about the history of those children too. At a school like Trinitas, we get to watch them grow from four-year-olds to eighteen-year-olds. That's a lot of history.
I have been thinking about how wonderful it is that Trinitas teachers can help ground our students because we know their history. We know when they lost their baby teeth, when they were baptized, when their favorite pet died, when their grandmother beat cancer, when their baby brother was born, and so much more. We are able to speak to our students in the context of an almost familial relationship that gives us the kind of community that is rare in the world of teachers and students. We engage with students on a personal level. They are not just desk warmers to us, but real, live human beings who are growing up into the stewardship of the world.
I cannot think of a better environment in which to educate children and prepare them for their place in the world than a small K-12 school.
While it isn't impossible for a child to slip through the cracks at a small school like Trinitas, it is certainly less likely than at a large school with large classes. Students who are troubled or struggling really have fewer places to hide in a small K-12 school where the odds of a depressed sixteen-year-old encountering his former third-grade teacher in the hall are pretty high. At Trinitas, the odds of that third-grade teacher taking notice of her student from eight years previous are somewhere between extremely high and a sure thing. The odds are equally good that she is going to engage that student, his parents, his current teachers, the school administrator, and God Almighty on his behalf.
In the world of mega schools, sterile education, locked out parents, blocked out religion and history, and degradation of Christian and American virtues and values, small schools have a real opportunity to re-humanize the American student.
These children who are growing up before our very eyes are, after all, made in the image of God and charged with stewarding his creation. They are called to love God and neighbor. At Trinitas, we aim to treat our students as human beings who bear the fingerprints of God, and we aim to teach and train them to love God and neighbor. And we get fourteen years to live with them and work at that project together. What a privilege and honor!