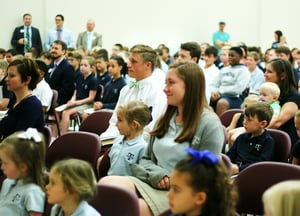 To do a thing well, you have to begin well—you have to start off on the right foot. At Trinitas we want every day to go well, so we begin every day with a short time of devotion and worship we call Morning Meeting.
At 7:50 each morning the entire student body gathers together in the Grand Hall where we start Morning Meeting by reading God's word.
There is no better way to begin the day than to hear the word of the Lord and talk about how to apply it to our lives. After a brief comment on the day's reading, we spend a couple of minutes reciting our Scripture memory passage for the month as we work together to hide God's word in our hearts. We follow our Scripture recitation by reciting one of the historic creeds of the faith, either the Apostle's Creed or the Nicene Creed, that unite Christians not only across denominations but also across centuries. After the creed we sing a hymn of the Faith, or even better we sometimes sing a Psalm. We close our time of devotion and worship together with a prayer handed down by Church Fathers or other heroes of Christianity.
Morning Meeting is structured the way it is for several reasons. First and foremost, we want to dedicate our day to God. But we also want to hear from Him through His word and through the creeds and music and prayers of His people down through history. These things encourage us to pattern our lives after Christ and give us a common language with all Christians across denominations and time. Not only are we united to all Christians through our short worship time, but we are drawn closer together as a school family. Finally, of course, we want to have a great, God-honoring day, and this time of worship and devotion together in Morning Meeting starts our day on the right foot.
Each day many parents and young siblings join us for Morning Meeting. If you are a Trinitas parent and you've never joined us for Morning Meeting, consider this a special invitation. You'll find it is a great way to start your day too.