(This week we continue our series about schooling at home during this difficult season. Trinitas Junior Kindergarten teacher Sarah Hadley shares ideas she has found helpful while running an organized classroom in her dining room. To make it easier to implement these tips, we've divided this post into two parts.)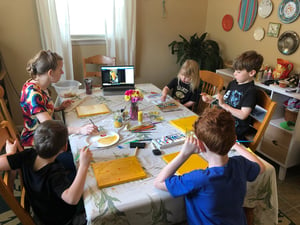 With all of us working at home and schooling at home in these unusual times, it might be tempting to think of children as a disruption. When the disciples had a similar moment, Jesus reminded them, "Let the little children come to Me, and do not forbid them; for of such is the kingdom of God" (Mark 10:14). I need that verse stamped on each of my children's foreheads. I need to see it in those moments of feeling frustrated and pulled in five different directions. As a parent, an employee, and a teacher, I feel stretched thin, but there are a few steps we have taken in our home that have helped us be successful so far.
Keep a Routine
Our mornings haven't changed much. We still rise between five and six although we let the children sleep until seven, if they need it. We all get dressed, eat breakfast, and do our morning chores. We come together by eight to do our school's liturgy, reading the Bible, praying together and worshiping God together through song. It truly has been a blessing most mornings.
Get Organized
Following our worship time, we dive into studies. Each child's assignments are different, so before we ever start our week I make a check-list in graph form. Subjects line one side of the graph with each child listed below; days label each column. I fill in the graph with quicks notes. The graph enables us to quickly get out the next subject to work on when we finish something. I know not everyone is a list person—I am not either—but this little bit of organization helps me juggle the different lessons and assignments so I can focus on helping my children amidst the myriad of questions and multitasking that's taking place at my dining room (now school) table. I've learned that keeping my list on top of the table and easily accessible helps me focus and keep my cool…well, most of the time.
I am not an overly organized person, but I stay on top of my students in the classroom, and now in my dining room, to keep a clean and uncluttered workspace. We declutter as we go. When a child is done with a subject, it gets put away. Completed work that needs to go back to the teacher gets put in the back of the red home folders, and started but incomplete work goes in the front. Folders and books stay in backpacks that line the dining room wall. I am the high ruler of all things packets. Everything that comes out of or goes into the packets must go through me, which is appropriate for grammar stage children.
Think Strategically
Another thing we have found helpful is staggering subjects for our children. Our oldest gets his math out first every morning after our "Morning Meeting" because he needs the least amount of help with it. That gives me time to get everyone else, even our three year old, tasked, organized and being productive so time isn't wasted. Strategically, it is best if our oldest starts the day with math, but for another of our children we strategically save math for last. He needs the least amount of help with math and enjoys it the most, so when the schooling-at-home day has been long and he is tapped out, he can finish strong and quickly with his easiest work.
(to be continued next week...)