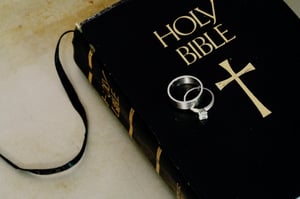 My wife and I have attended an unusual number of weddings over the past few months. Far from being a burden, I consider our attendance at these glorious events a blessing. After the most recent wedding, I remarked to my family that every wedding like that one strikes a blow for the kingdom of God. Whatever do I mean by that? And what does this have to do with classical Christian education or Trinitas Christian School?
Secular American culture has come to view marriage as a matter of small consequence—sometimes even temporary or disposable. I tell you, though, when a Christian man and a Christian woman commit themselves to each other before God and a church full of God's people in a beautiful, God-honoring ceremony, the gates of hell tremble. Why? Because that man and woman have chosen the path that God has ordained for most men and women; because they have covenanted together to be faithful to God and to each other; because they have started down a path that will likely bring children into the world to be raised in the nurture and admonition of the Lord; and because their Christian marriage is a testimony to the unbelieving world about God and His people. Christian marriage matters even if the rest of the world has given up on it—50thand 75th wedding anniversaries matter.
As image bearers of God who call Christ our Lord and King, we have a responsibility to bear His image well. That means everything we do should be done to the glory of God. That is why it is important for Christians to have edifying weddings and enduring marriages, yes, but we must also bear God's image well in smaller and even routine or mundane acts. Everything we do says something about who we are and what we believe.
At Trinitas, this small but profound truth encourages us every day to work at cultivating virtue in our students. It drives us to labor at developing Christian character. It places weighty responsibility on us as we labor alongside parents and the church to train children in the way they should go. It fuels us to help them develop habits of mind, body, and soul that enable them to live the Christian life well, honoring God in all they say and do.
Because even the small things children do matter, at Trinitas we train them to say please and thank you and yes ma'am and no ma'am. Speaking this way to one's neighbor is kind and charitable, and Christians ought to practice kindness and charity. We also train even the smallest students to practice self control in very small ways—ways that may seem mundane or unimportant such as keeping their eyes and ears trained on the speaker even when his speech is not very interesting, or waiting patiently for their turn to speak without interrupting, or not blurting out the answer when it is their neighbor's turn to answer. These are small acts, yes, but they require children to practice self-control, which is a fruit of the Holy Spirit. If they are able to control themselves in these small ways, they will eventually be able to control themselves in the much weightier matters awaiting them as they grow older.
This attention to practicing distinctly Christian ways of doing even very small acts is the sort of stuff that keeps the devil awake at night. If the gates of hell tremble at the news of a glorious Christian wedding, know that they are equally rattled by our doing even the smallest tasks in distinctly Christian ways. Let us teach our children to honor God even in the smallest, most mundane tasks because bearing the image of God well in the world tells the truth about who God is, and while that is a testimony to unbelievers, it is also an act of warfare against the kingdom of darkness. From please and thank you, to weddings, to funerals, the way we do everything matters.