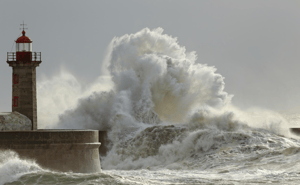 "Let Your mercy, O LORD, be upon us, just as we hope in You" (Ps 33:22).
We are living through a difficult season. Few of us have actually been sick or have family and friends who have been sick, but we know of others—friends of friends, perhaps—who have been sick. Some have recovered, experiencing mild symptoms if any, and some have passed away. There is an actual physical illness among us, but there is also hysteria and chaos, whether intended or not, that make the situation far worse.One of the dangers of a season like this one is the danger of falling into despair. People have employed all sorts of different ways of preventing despair. Some take every precaution against getting sick that every expert and pseudo-expert recommends and thus preoccupy their minds with preparing. Some deny there is a sickness altogether and thus preoccupy their minds with conspiracy theories. Still others find solace in perspective, reminding themselves that the current situation pales in comparison to the Black Death or the horrors of the World Wars. In the end, these may all just be tricks we play on ourselves, ways of getting by.
For God's people, the redeemed of Christ, there is another way to keep from falling into despair: hope. Our God is "a very present help in trouble" (Ps 46:1). His mercy rests forever upon His people. He will neither leave us nor forsake us. We can put our hope in God in times like these.
Now what does that mean?
God is sovereign over the earth and everything in it. That includes plagues. If God's people, who are called by His name, will humble ourselves and pray and turn from our wicked ways, then He will hear from heaven, and will forgive our sin and heal our land (2 Chronicles 7:14). Yes, I'm serious. Imagine if the more than two billion Christians in the world fell on our faces and got serious about confessing our sin. It is certain that our God would cleanse us from our iniquities, and it is also possible—we should hope—that our God would deliver us from this current world-wide sickness.
But He might not.
Perhaps this season is a hard Providence for us, a trial intended to draw God's people closer to Him. What then do we have to hope for? Sanctification is the answer—maturing in Christ, growing in Christ-likeness. James seemed to have this in mind in the opening words of his epistle: "My bretheren, count it all joy when you fall into various trials, knowing that the testing of your faith produces patience. But let patience have its perfect work, that you may be perfect and complete, lacking nothing" (James 1:2-4). Most of us would have to confess that our patience have been tested over the past five months. How are you doing with that? Are you trusting God to perfect you through this trial? It is a thing worth hoping for.
Okay, but what if I get sick and die?
Yes, you might. Where is your hope then? If you die, has your hope been in vain? No. God's people are eternal beings. This world is real and important, and we have lots of work to do in it, so we are certainly not just sitting around waiting for heaven. Nor are we to test God by tempting death. But we were made for Glory, so we should be confessing with Paul, "For to me, to live is Christ, and to die is gain" (Phil 1:21). To die is gain because to be absent from the body is to be present with the Lord (2 Cor 5:8). The next chapter for us, brothers and sisters, is one to hope for!
Whether God chooses to deliver us, sanctify us, or call us home the choice is His to make. But all of these are good choices for us—things to be hoped for—and they can only come from Him. Let us hope in the Lord, especially in times like these. May despairing unbelievers see us hoping and inquire about the Hope within us (1 Peter 3:15).