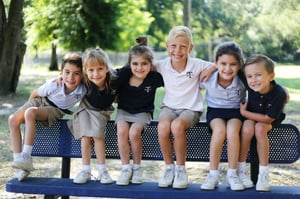 A couple weeks ago I made Trinitas families aware of a few openings we still have for students in the grammar school and asked them to invite families similar to theirs who share their beliefs and values about Christian education to come check out Trinitas. Most of them don't have an hour and a half to tell their friends about the school, though, so I thought an elevator speech might prove helpful.
Many of us are familiar with the term "elevator speech." For those still in the dark, it isn't really a formal speech but something more like a pitch that can be delivered in the space of the average elevator ride, say 30 seconds or so. The goal is to inform the audience—even an audience of one—about your self, cause, organization, business, project, or candidate in a short time.
The main thrust of a Trinitas elevator speech should be to emphasize how different Trinitas is from other schools because people may assume Trinitas is just one more school option among many in our area. But Trinitas is more than that—we're doing something completely different than any other school around; in fact, we don't even share the same end goal as other schools, so our elevator speech must demonstrate that difference. I've identified three important differences that should go into an elevator speech and briefly described them here:
Discipleship Model
The majority of Christian schools are based on an evangelistic model; this means they enroll children of non-believing parents. The hope is that children would come to Christ through the school. Trinitas, however, is a discipleship model school. At Trinitas, we only enroll children of Christian parents; we verify the faith of the parents through having families sign a statement of faith and having their pastors provide a reference for them. We prefer this discipleship model because it means we are all starting from a common understanding of the Triune God—we have one foundation from which to begin. That one foundation allows us to focus on spiritual growth through our curricula and through our interactions with one another in a distinctly Christian environment. In the discipleship model, any necessary discipline can be based on biblical principles and consistent with expectations that are shared by the school, the church, and the family.
Classical Curriculum That Cultivates Virtue
Our students read many of the important works that have shaped the West, from the ancient Greeks to the best Christian thinkers of the twentieth and twenty-first centuries. They wrestle with the big ideas contained in those literary works and then reconcile those ideas with the historic period that produced them and with what they know to be the ultimate truth of God's word. This daily wrestling with foundational ideas and synthesizing of supporting information through discussion and debate gives students a unique perspective on their own place in history. It helps them come to a fuller understanding of who they are in God's kingdom and what really matters in the here and now. Students immersed in this kind of study put on faith, hope, and love over the course of time because they develop a profound understanding of who God is and who they are in relationship to Him.
Distinctly Christian Community
The discipleship model affords us the freedom to create a distinctly Christian community at Trinitas. We begin every day together as a school reading the Word, memorizing large passages of Scripture, singing Psalms and hymns, and praying together. We close each day together as a school with a brief exhortation from the Word and singing the Doxology. Our teachers teach from the wisdom of the Proverbs to begin their classes, and the upper school theology classes are rich discussion-based classes that provide a mooring for the rest of the curriculum. Not only that, but by the time Trinitas students graduate they can read the New Testament in the original Greek language. Parents are welcome throughout the day because we believe Deuteronomy 6 places responsibility for educating children on the parents. Students thrive spiritually when the family, the church, and the school are all on the same page and actively involved in their education. Parents who are involved help us maintain a distinctly Christian community at Trinitas!
It isn't surprising that I've given too much material for a thirty-second elevator speech, but there is so much to say about how Trinitas is different from other schools! If you are a current Trinitas parent, hopefully this encourages you to come up with your own pitch based on your experience at Trinitas. If you are not currently associated with Trinitas, I hope this has been informative for you. I invite you to stop by the school anytime for a tour and a fuller exposition of who we are and why.