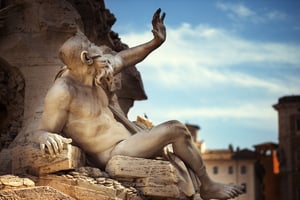 I loves poems. The first poem I ever taught at Trinitas started like this:
Sing, goddesss, the anger of Peleus' son Achilleus
and its devastation, which put pains thousandfold upon the Achaians,
hurled in their multitudes to the house of Hades strong souls
of heroes, but gave their bodies to be the delicate feasting
of dogs, of all birds, and the will of Zeus was accomplished
since that time when first there stood in division of conflict Atreus' son the lord of men and brilliant Achilleus.
I remember that my students read those words, one after another after another, correctly placing vowel after consonant until finally stopping at the hoped-for period. I remember asking them what they just read. I remember their blank stares.
I love poems. One poem that I love to say aloud just because I love the way it bounces out into the world goes like this:
As tumbled over rim in roundy wells
Stones ring; like each tucked string tells, each hung bell's
Bow swung finds tongue to fling out broad its name.
I remember the first time I tried to read those words they tripped off my tongue and splattered on the ground. It took practice and listening and understanding for their bounce to achieve a smooth rhythm.
I hope you love poems, too. And I hope my students are learning to love them. I want to give them and you a tool to overcome the blank stare, a path straight toward poetic understanding.
To that end, and others, Trinitas is launching a YouTube channel. We have big plans! Already you and our students can listen to Trinitas teachers reading poems. As you listen, I don't hope that you're wowed by the clarity of articulation or the magic of the words. But rather, I hope that the poet's voice invites you into new ways of thinking and offers challenge to the way you perceive the world.
As we go, we hope to offer more on YouTube. Soon enough, we hope you'll be able not just to listen to poems on the Trinitas channel. We plan for you to be able to find a resource for understanding the earth's rotation, or the themes of The Great Gatsby, or the causes and effects of World War II.
Please visit YouTube and subscribe to the Trinitas channel. It is our gift to you, neatly packaged in the internet, with a pretty, red, technological bow atop reading, "YouTube."