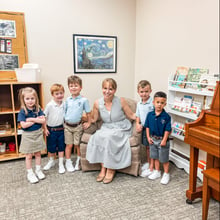 You may have noticed a recent addition to your Nuntium, our weekly communication between teachers and parents. We have begun including a section that begins with "What's the deal with…?" that addresses a particular cultural distinctive of Trinitas. The first topic was "What's the deal with Unity?" and the second was "What's the deal with first-time obedience?"
As I myself am getting to know Trinitas, I have been asking teachers, parents, and administrators what things they value most highly about the school. The most consistent response has been the school's culture. When I pressed in to find out what defines that school culture, the sense of community stood out. (See my previous post on community and fellowship here.) After that, there were more than 25 different things that our people said contributed to defining who and what Trinitas is. Feast days, field trips, traditions, and uniforms were not at all surprising to me. Things like, hard work, high standards, Parent Traditio, and humility were music to my ears. Speaking of music, it also ranked high as a Trinitas distinctive. Not surprisingly, a few people expressed ideas of how the school could improve. A suggestion that came from two siblings in the Grammar School is one that I could really get behind: ice cream on Monday, Wednesday, and Friday, and chocolate pie on Tuesday and Thursday. I like the way these kids think!
There is also a strong conviction that these distinctives must continue to be taught and promoted so that future students and families will reap the blessings that make up the Trinitas experience. Borrowing a quote from Samuel Johnson, "Men more frequently require to be reminded than informed." It is with that idea in view that I have scheduled one distinctive per week for all teachers to include in their Nuntia. I hope and trust that you will find these useful. Each teacher will put a slightly different spin on the distinctive for the week, so for families who have more than one child in the school, you will receive the added blessing of seeing variations of the same themes.
If you didn't read the first two "What's the Deal With…?" blurbs, here are some examples of what you missed.
What's the deal with Unity?
Why do we insist our students recite together, raise their hands to speak, head their papers using the same format, wear uniforms, keep their eyes on the speaker, etc.? We can find the answer in the response to Catechism Question 1: What is man's chief end? Answer: Man's chief end is to glorify God and enjoy Him forever. There is no individualism or self-expression represented in that answer. Our purpose in the classroom is to be one in purpose and practice so that we may glorify God and enjoy Him together as one. (Mrs. Phillips)

When we think of unity we think of peace, agreement, strength, and goodness. In the classroom, being in unity means anything from saying something in unison (like a chant or recitation), to all students being engaged and ready to learn. Speaking when it's time to speak, being silent when it's time for silence. Therefore, if someone in class is speaking out, being disruptive, or even not following along, they are out of unity. We know that unity is good because the Father, Son, and Holy Spirit are united in the Trinity as one. We should likewise be in unity with one another. Psalm 133:1 says, "Behold, how good and how pleasant it is For brethren to dwell together in unity!" (Mrs. Gasaway)
What's the Deal with 1st Time Obedience?
First-time obedience from students is vital if we are to accomplish our mission at Trinitas Christian School. However, more than this, the Bible explicitly shows that the Lord expects and requires children to honor and obey their parents (Ex 20:12; Eph 6:1-3) and for people to be subject to the authorities God has placed over them (Rom 13:1-7; 1 Peter 2-3). At the heart level, failing to obey the first time reveals an unwillingness to rest in God's sovereign Lordship and authority. So, in a very real sense, students either obey or disobey the Lord by the way in which they respond to the authority he has placed over them. May we cultivate this biblical heart posture in our students by showing them the goodness of submitting to authority! (Mr. Langham)
Do you have an idea for a Trinitas distinctive that you feel is important to communicate? Send it to me!