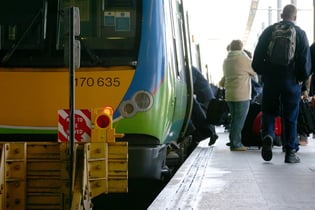 Our junior and senior classes have just returned from five days in New York City. Some schools would call it a junior-senior trip; we call it an aesthetics trip. On a Trinitas aesthetics trip the main mission is to discover beauty that we can't discover at home. We go in search of music, dance, art, architecture, and food. It isn't that we don't have those things in Pensacola; it's just that we can find more of them in places like New York City and Washington DC.
On the first night in New York City, about half of the students enjoyed seeing Ludwig von Beethoven's only opera, Fidelio, at the Metropolitan Opera in Lincoln Center. The other students attended Phantom of the Opera on Broadway. Students appreciated the abundant beauty of the costumes, the voices, the stories, and even the ornate beauty of the opera houses themselves.
Great architecture has all sorts of aesthetic implications. Students delighted in the worshipful architecture of St. Patrick's Cathedral. They also enjoyed the grand and ornate architecture completed by some of the captains of industry during the late nineteenth and early twentieth centuries. The J.P. Morgan Library and The Frick Museum in particular are reminiscent of ornate European estates with their indoor gardens and wood paneled studies; now they house some of the greatest private art collections in the world and are open to the public. No trip to New York City is complete without seeing the Empire State Building; our students spent an evening viewing the city from this magnificent structure.
Few places offer the aesthetic satisfaction of an art museum, and we visited five of them on this trip to New York. From ancient to modern and sculpture to painting, some of the world's most beautiful and famous art was available to us in the city. We visited The Cloisters, The Museum of Modern Art, The Metropolitan Museum, The Frick, and The Guggenheim. The students were well prepared for what they saw because they have been researching many of the most notable works and presenting their findings in class for several months. One evening ended with a wonderful group discussion about the works we had seen that day.
Our students were also tasked with finding aesthetically pleasing food on this trip. On two separate evenings students and chaperones were given time to search out a fine dining experience that they could not have had at home. Russian, Irish, and Italian themes were predominant among the group, but some kept it American, choosing to attend restaurants owned by famous American chefs. The dishes were varied and delicious: borscht, desserts with caviar and gold, kulebiaka, duck, lamb, octopus, and other decadent treats the students are sure to remember.
We also toured CNN New York for a back-scenes look at how the news is produced. Students were treated to a private tour by none other than Kyle Blain, a member of the CNN "K File" team.
Of course, we took a break for ice-skating at Rockefeller Center to make our New York City experience complete.
If this doesn't sound like a normal junior-senior trip, that is because the aim of the Trinitas aesthetics trip is to introduce students to aesthetic experiences they cannot have at home. Sure, we have opera and museums and architecture and great food in Pensacola, but this trip gives our students a wider view of the world. Students can get pop-culture and pop-music and cheap food anywhere; this trip is about giving them what they don't have readily available to them everyday. It is indeed part of their education, but it is the part that is most like an elegant dessert—one with gold leaf and caviar, perhaps.