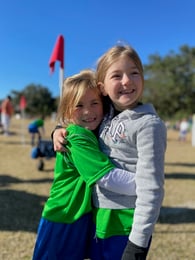 One goal not written in the Trinitas mission or vision statements is the goal of building a close community among Trinitas families, but it is our goal nonetheless. Community building isn't a foreign concept at schools, and especially at the college level since it is a retention tool for colleges and universities. College students who might otherwise consider dropping out or transferring to another school may be reluctant to do that if they have grown close to their classmates, professors, and others at the school. For Trinitas, our reasons for building community run deeper.
Trinitas embraces content and pedagogy that are unique in our area. If a parent is struggling to understand why his second grader spends the school day singing and chanting and reciting rhymes instead of analyzing his feelings and doubling down on STEM, chances are he can't ask his neighbor whose kid goes to XYZ school down the road to help him understand it. He needs to ask Trinitas parents to help him understand it, and not only other Trinitas second-grade parents, but also parents of seventh graders and tenth graders who can tell him how what his child is doing in second grade will pay off down the road. If he has met and gotten to know those other parents, he can get answers to his questions that will most likely lead to a fuller understanding and deeper appreciation for the classical education his child is receiving.
Another reason community is so important at Trinitas is that we are living together every day at the school as Christians, holding each other accountable to live according to God's ways. We work hard to cultivate virtue and Christian character in our students, but that takes community. Hillary Clinton famously said in the nineties that it takes a village to raise a child; in fact, she wrote a book by that title. I never did read the book, and I doubt Ms. Clinton and I would agree on all points regarding raising children, but her statement makes sense to me from a Christian perspective. It does take a like-minded group of people to give a child a solid foundation in the Christian faith. Parents need reinforcement from church and school; they need to have a community that believes the same thing they believe about raising children.
At Trinitas, we look for ways to bring our community together so we can build relationships with each other and get comfortable leaning on each other in this great task of raising our children in the nurture and admonition of the Lord. In the early days of the school, one of those ways we built community was Fall Festival. The whole school would turn out to eat barbeque, play games, and enjoy conversation with new friends under the shade of our sprawling oaks. As the school grew and we added sports, the calendar became so full that we dropped Fall Festival in lieu of tailgate parties at soccer and volleyball games. But for those of us who have been around a while, nothing can quite replace Fall Festival.
This fall, we're bringing festival back - albeit with a different format! Times may have changed, the calendar may be too full, and the school may have grown, but we still need community. There's no better time to make new friends and build the relationships that bind people together than spending an evening in large group dances with family and friends of all ages. If you're already part of the Trinitas family, I sure hope to see you there. If you're not part of the Trinitas family, well, you just don't know what you're missing, but maybe it's not too late. If you're looking for a school that values community, you've come to the right place!