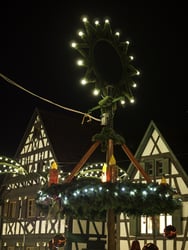 At this time in the history of the world, when our calendar is controlled largely by a capitalist machine of our own making (read WalMart, Amazon, etc.), perhaps we Christians should buck the system a little, remind the secular establishment that we're still here and still seeing things just a little differently than they. That's one reason we talk about the season of Advent at Trinitas.
Some stores were decorating for Christmas on October 31 of this year. You may have seen the cartoons in newspapers that depicted children trying to trick-or-treat while the department store Santa shoved them along saying, "Time is money, kid!" Time is money, indeed! Actually, time is what we make it because it is one of the things God has given to us to redeem by taking dominion of it. So how do we think Christianly about time? Do we, as Christians, side with the kids trick-or-treating or with the department store Santa? While the Sunday School answer appears to be that we ought to side with Santa, I propose we side with neither. Instead, I propose we celebrate Advent in anticipation of Christmas.
Advent, from the Latin adventus meaning coming or arrival, is a season the church has celebrated for hundreds of years; in fact, some claim that Advent was first observed by the Apostles during the first century. The bottom line? No one is sure exactly when the observation of Advent began. We do know, however, why we as Christians should celebrate Advent. Beginning on the fourth Sunday before Christmas in most Christian traditions, Advent is a season of preparation. We use this time to prepare our hearts for the coming (or adventus) of Christ, the Messiah. Oh sure, we all know Christ came some 2,000 years ago. That is a fact, and because of it we can feast and rejoice and celebrate as if every day were Christmas and Easter all rolled into one. The wait is over! Christ is King now! Advent does not replace that fact.
Rather, Advent helps us remember why Christ came. It is a period of self-examination to remind us that we are sinners in need of a Savior. It is a period of anticipation to prepare room in our hearts for the coming of Messiah whose birth we celebrate on Christmas morning. It is Christ alone who can save us and not we ourselves. Advent helps us remember that, helps us look forward to the coming of our Savior on Christmas morning even though He has already come, even though we are once saved and need not be re-saved every Christmas morning. Importantly, Advent is a way of tuning our bodies, minds, and spirits to what God has done, not only in our own personal lives, but also in the history of the Church and the world, and to what He is continually doing. It is one way for Christians to remain steadfast in their faith and very near their Lord and Savior. It is one way to make Christmas even more special than it already is.
The next time you sing that great hymn "O Come O Come Emmanuel," pay close attention. This is an Advent hymn; otherwise, the title would be "You Came You Came Emmanuel." This song is meant to be sung during Advent, not at Christmas. It looks forward to the coming of Christ on Christmas morning. There are several versions of this great hymn, but here is the third verse of one of my favorite versions:
O come, thou Dayspring, come and cheer
our spirits by thine advent here;
disperse the gloomy clouds of night,
and death's dark shadows put to flight.
Christ has come! We are free from Satan's tyranny! Any superstitious view of Advent that ignores that fact is plainly heretical thinking. But an observation of Advent that helps us remember why we are in constant need of our Savior, and helps us prepare our hearts for the arrival of Christmas, is just healthy Christian practice.
We will definitely talk about the importance of the Advent season at Trinitas. But if we sing "Joy to the World" and "Frosty the Snowman" while we decorate our Christmas tree in late November, remember: even though we are talking about and preparing our hearts for the coming Messiah, we know too that He has already come. If that makes Christians a little schizophrenic, then it just reaffirms that we are God's people who live smack dab in the middle of the tension between the already and the not yet…besides, it keeps the department stores guessing!