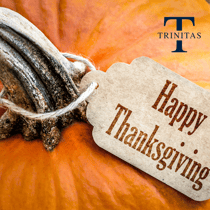 We are now in the middle of Thanksgiving week, perhaps the greatest of purely American holidays. And it is a holiday born of good intention in that it is noble to set aside a whole day for giving thanks to God for His provision for us. As Christians, we would do well to remember that we should be thankful every day, should live lives of thanksgiving before God, for every breath we take comes to us as a providence of our good and loving God.
A tradition many families follow at Thanksgiving is to have each family member voice to the others what he or she is thankful for. I am going to step into the stream of that tradition this week. But rather than list every single thing I am thankful for—which would be a good exercise, by the way—I want to focus on a recent event I am extremely thankful for: our Love Thy Neighbor event at Trinitas Christian School. If you don't know, Trinitas sent about 250 volunteers into the Pensacola and Milton communities to work at eleven different service projects on Friday, November 13. The day was a tremendous success!
Thank you, sponsors! Those businesses and individuals and families who gave so generously to this event from the gifts that God has given to them enable Trinitas Christian School to fulfill its mission in a very practical way!
Thank you, community partners! We are so grateful that many non-profit and community service organizations allowed Trinitas students to serve them even during this season of "an abundance of caution!"
Thank you, volunteers! What a blessing it was to have not only all of our students but also a majority of our parents working shoulder-to-shoulder serving in the community!
Thank you, God! For you have put into your people a spirit of love for one another and for those in need. Thank you for enabling us to act on that. Those who served, who gave of themselves, received a great blessing indeed!
If you are interested in what the Love Thy Neighbor event looks like through the eyes of videographer Matt Fuller, enjoy watching this video of the event! And Happy Thanksgiving, neighbors!