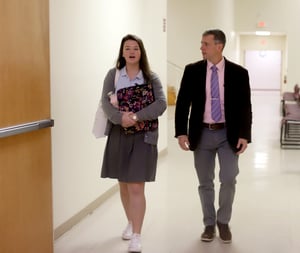 The Trinitas seniors recently finished their senior thesis project. It was as if the weight of the world fell off them on that day. They have been living with their topics and all the research and writing and re-writing for a year now. It felt good for them to turn in those papers and defend them before a panel of board members and faculty. It felt good for them to look back on their work well done and know they had accomplished that massive and daunting project they set out to accomplish a year ago.
Trinitas is not the only school that requires seniors to write and defend a thesis as a requirement of graduation. Thesis papers and sometimes a defense of those papers is a requirement in most classical schools and some prep schools as well. The requirement is in keeping with the Trinitas goal of teaching students how to think, not what to think.
The thesis paper requires research of a topic the student probably learned something about in class but ideally goes far beyond the scope of material covered in class. Students will read between 1,000 and 2,000 pages to get comfortable with their topics; then they write papers approximately fifteen pages in length. Of course, they'll probably write more than one paper like that in their first year of college. Even though they aren't in college yet, thesis gives them a good taste of what is coming in the years ahead.
Once the paper is turned in at the end of the third quarter, students begin preparing to defend their theses. This is the part that really makes them nervous. During the defense, students present a summary of their papers in a room packed with family, faculty, and board members. After each student presents his or her summary, a panel of six faculty and board members peppers the student with questions. Many of these questions will not be directly from the text of the student's paper but will instead ask the student to extrapolate by applying his or her position on the topic to real world scenarios. This is the most uncomfortable part of the thesis defense for students and parents, but it may be the most important as well. Trinitas aims to graduate students who can think on their feet, especially concerning a topic they have researched for a year. We are sending these students out into what can be a cold and hostile world, and we want them to be able to think on their feet well enough to give an answer to the world for the hope that is within them (1 Peter 3:15).