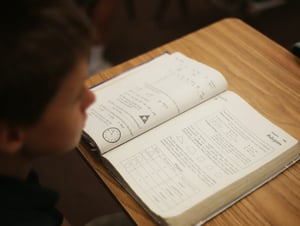 When you come to Trinitas, what jumps right out at you is the fact that it is a different sort of school than your common public or private school, and even different from most private Christian schools you will have been acquainted with in your life. That isn't to say that there aren't other schools like Trinitas in the world, and it isn't even to say that Trinitas is the best school that you will ever have been acquainted with. It is different, and that should be obvious. One of the main catalysts for that difference is the pursuit of truth, goodness, and beauty in our school life, not only in the classroom, but also in the hallways, at the lockers, on the ball field, and in short, everywhere the school has any presence as an institution.The founding philosophy for our pursuit of truth, goodness, and beauty is the exhortation in Philippians 4:8: "Whatever things are true, whatever things are noble, whatever things are just, whatever things are pure, whatever things are lovely, whatever things are of good report, if there is any virtue and if there is anything praiseworthy—meditate on these things." This Scriptural exhortation is a well-suited template for classical Christian education. If we meditate on and even pursue things that are true, good, and beautiful, we will be orienting our hearts, our loves toward these things and away from the opposite of truth, goodness, and beauty. We will be cultivating virtue in our students and teachers.
So how does that make Trinitas different? Does it mean we only read stories about sweet little Christian boys and girls whose hair is parted on the right and whose faces and hands are always clean and who never tell lies? Well, that isn't a bad place to start with toddlers, but any eight-year-old can tell you the world doesn't work that way. Adam and Eve messed that picture up and none of us has done any better since. So instead we teach and train (and learn alongside) our students to discover what is true, good, and beautiful in the rubble of this fallen world. When we find it, we hold it up in a redeeming sort of way and point others toward it; we meditate on it apart from the rubble we rescued it from, allowing it, more than the rubble, to inform who we are.

The rubble we search through is the whole world and all its works. God created the world and everything in it, "even the wicked for the day of doom" (Prov. 16:4). With that in mind, it seems that at least a shred of truth, goodness, and/or beauty ought to be lurking everywhere. Certainly there is some rubble too ragged for our students to dig through at this stage of their lives, so we won't dig in those places. Still, we want to dig through enough rubble during their career at Trinitas to give them the tools they need, and the practice with those tools, so that they can continue to sift through the rubble for themselves for the rest of their lives, always searching for the true, the good, and the beautiful.

All of this gets us back to how that pursuit of truth, goodness, and beauty makes Trinitas different.
The world has decided that truth, goodness, and beauty are relative. At Trinitas we maintain that there is a standard for truth, goodness, and beauty, and that it can be found in the Logos—in the Word and in the Word made Flesh, Jesus Christ. This is our compass when we go digging in the rubble; this is our magnifying glass, our lie detector, our model for beauty. It is as much our guide when we read Nietzsche and Rousseau as it is when we read the Hobbit. It is what makes our Aesthetics trip a serious educational exercise instead of a class party. It is the line we correct to in the classroom when we drift to one side or the other. It is the thing we most want our students to know and love, to live their lives by, and to measure everything by as they leave Trinitas and continue the lifelong pursuit of things true, good, and beautiful.
No matter what education may look like elsewhere, this is what it should look like at Trinitas. No matter what the template for education is at other schools you may be acquainted with, the pursuit of truth, goodness, and beauty is the template at Trinitas—and that is why everything we do should look very different from other schools you may be acquainted with.