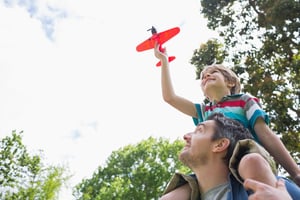 Last week I introduced the term father famine to this blog. The term I have only recently heard from my pastor; the idea the term denotes I have observed for years. The term fitly describes the absence of fathers and fathering in our culture. We have developed cultural amnesia, and one of the things we've forgotten, which is key to any culture, is fathering. By "we" I mean western culture generally, but to be more specific, I mean Christians seem to have forgotten the importance of fathering and, therefore, how to father. There is a dark irony in this Christian forgetfulness. The obvious irony is that fathering ought to be on our minds all the time because we speak of and look to God as our Heavenly Father; the subtler irony is that remembering is a predominant theme throughout Scripture.
As earthly, human fathers, God gives us children to steward, children who do not belong to us but to God even though we call them ours. He gives us these children and instructs us to bring them up in the nurture and admonition of the Lord, and then he gives us a short time to get that done. Make no mistake, our children belong to Him first and foremost, which means we really are very much like stewards. That God ever entrusts their care to us in the first place is a beautiful gift He gives, for they are truly princes and princesses in the Kingdom who are in training to rule, to judge men and angels, to live with and worship God in eternity. What a gift to prepare them for that work, but what a tremendous responsibility!
Fathers are crucial in this stewardship role because we are expected to be the main actors and ultimate overseers in this process of bringing up children in the nurture and admonition of the Lord. We are responsible for passing on the faith to our children; not only do we daily preach to them the saving power of Jesus Christ, but we also teach them how to keep God's laws and to love them, to walk in his ways, to adopt his precepts, and to allow those laws, ways, and precepts to order the affections of their hearts and minds. In short, we fathers are ultimately responsible to teach our children what it means to be Christians.
By virtue of being fathers generally, we are responsible to bring up our children in the nurture and admonition of the Lord—this responsibility is on all fathers everywhere. By virtue of being Christians in particular we have said, "Yes, Lord. We will do this thing You have required of us and will do it joyfully." Any father, then, who is doing otherwise is in rebellion. It is one thing for an unbelieving father to be in rebellion, but what about believing fathers? Woe to any believing father who is not obedient to bring up his children in the nurture and admonition of the Lord.
There are many ways that Christian fathers abdicate their responsibility and authority in this matter. Often they don't even realize they're doing it. Last week I mentioned the father who wants to be friends with his children, who doesn't want to do anything that might upset them or make them unhappy in any way. That father is certainly abdicating his responsibility and authority; he has turned over the reins to his children who do not even know what they ought to want, and he has let them make decisions not only for themselves but by extension for the whole family. He has set his children up for failure, and left to their own devices, fail is exactly what they will do.
Another way many fathers abdicate is by being absent. A special brand of selfishness pervades our society now and many fathers are caught in it. There was a time when the ambitious dad was labeled a "workaholic"; he was a dad who was too busy climbing the corporate ladder or otherwise finding his identity in his career to invest any time in his children. This father is still among us to be sure, but now there are even more things competing for a father's attention: television, movies, Facebook, Twitter, Instagram, and all manner of other social platforms. So many young fathers are giving their attention to these things instead of to their children. We often find some selfish satisfaction in how many followers we have, how many likes we get, how much feedback we solicit. Like the workaholic, many fathers find their identity in these or other similar things instead of in their callings to be husband and father.
There are so many ways the enemy divides our attention to keep us from fulfilling our callings. Fathers have to resist the temptation, or illusion really, to be relevant in an empty society and, instead, be relevant in their own homes. Men, be husbands to your wives and fathers to your children. Open the Word and find out what it means to be a godly husband and father. This is how we change the world—by loving our wives and bringing up our children in the nurture and admonition of the Lord. The world changing power of all of the emails, tweets, and photos you send cannot compare to the impact you will have by loving your wife and bringing up your children in the nurture and admonition of the Lord.