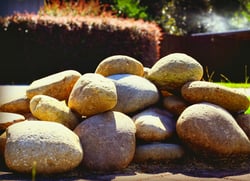 Each school day morning, Trinitas students stream into our building without taking notice of the two memorials that flank the entrance of the school. On the east side stands a flag pole upon which the 5th graders raise the American flag each morning. On the west side, however, stands a less understood and often overlooked memorial. A pile of smooth stones called the Trinitas Ebenezer. Both images are intended to trigger memory and evoke emotion.
Many people can remember the song that was playing when they first danced with their spouse or a song from their first date. "Amazing Grace" often evokes feelings of sadness because so many of us have sung it at funerals. Our national anthem brings a tear of pride and joy to many an eye when played before a ballgame. "Taps" is another funeral song that can evoke complicated emotions of sadness yet pride at the same time.
The cross is a powerful symbol of the love of God for his people. It has long served as a reminder for God's people and is often employed in worship and displayed on churches and in homes and even used as jewelry. It is a symbol that when used inappropriately or employed casually by those who are obviously not believers draws the ire of God's people.
We are obviously wired by God to be susceptible to certain songs, poems, imagery, and other liturgical devices for marking events in life. Throughout the Bible we see God's people creating songs to mark an event. We also see them setting up monuments. Throughout the Old Testament, we see patriarchs, judges, and prophets setting up monuments or memorials for the people so they will not forget what God has done for them. One particularly memorable monument was set up by Samuel between Mizpah and Shen when God defeated the Philistines for the fearful Israelites. He "called its name Ebenezer; for he said, "'Till now the Lord has helped us'" (1 Sam 7:12).
More than a decade ago we set up an Ebenezer for graduates of Trinitas Christian School. At the end of each school year, we hold a ceremony for the graduating seniors where they place their own stones upon the ever-growing monument. The graduates say to the crowd as they place their stones on the Ebenezer, "The hand of the Lord is mighty!" A group of alumni, always gathered opposite the Ebenezer, respond, "He is mighty indeed!"
It is the hope of the school that not so much graduates but more so the students who still attend the school would see the Ebenezer and remember that the Lord is faithful and mighty to see his people through. A struggling sophomore, for example, can see by the dozens of stones (170 as of this week!) on the Ebenezer that what he is enduring as a sophomore has been survived by many sophomores before him who have gone on to become graduates.
The Ebenezer at Trinitas is a monument to the faithfulness of God to his people, to the idea that God is mighty even when we are weak. And just like a song that gets stuck in our heads and brings back emotions from a bygone time, the Ebenezer at Trinitas reminds students and parents alike that this season will not last forever but will eventually come to a bittersweet end—the close of one chapter and the beginning of the next.
Congratulations to the class of 2022 which is now beginning its next chapter. We will not forget you or God's mighty and faithful hand that saw you through. We will remember every time we see the Ebenezer.