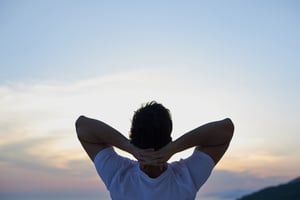 The common notion about teachers at the end of the school year is that they run out of the building screaming like banshees and then retreat to the comfort and ease of lounging beside the pool all summer to recover. I cannot tell you how many parents asked me the last week of school what I plan to do with myself all summer. One parent who knows I live out in the country asked if I ever even go to town during the summer. Another parent who stopped by the school last week was truly dumbfounded to find the parking lot full, the office well staffed, and all the teachers hard at work. "Don't y'all know it's summer?" he stammered. Yes, we do.
Contrary to popular myth, good teachers work all summer. Granted, the pace is slower—leisurely even—but good teachers work during the summer to hone their craft by reading and then responding to what they have read by writing essays and reviews; by attending conferences and workshops and classes and then responding to them by writing essays and reviews; by brainstorming fresh ideas with their colleagues. Teachers also use the summer to plan for the next year by meeting with colleagues and administrators to hammer out changes to curricula and methods that make up for perceived shortcomings—call it a model for continuous improvement. They also plan out the next school year, adding creative twists to lessons, coming up with more effective assignments, and pulling together the materials they need.
Last week was the first week of summer, and I truly hope students were soaking it up. It was also perhaps the most productive summer week I have ever been part of at Trinitas. Our teachers worked hard to bring the academic year to a close, but even more, they began to plan and implement changes for next year—exciting changes. They worked hard, even doing the manual labor of thoroughly cleaning classrooms and storage areas. And they were happy to do it, working together, relishing the camaraderie, commiserating about mistakes from last year, planning excitedly for next year. I am not talking about people who treat their calling as just a job; I'm talking about people who have embraced the call to teach that God has placed in their lives and who live that calling every day, even during the summer.
In the first part of Ecclesiastes 7:8, Solomon tells us that the end of a thing is better than its beginning. As hard as it may be to imagine, the school year at Trinitas ended even better than it began. It truly was a sweet end to the school year, and that sweetness has spilled over into the summer for the teachers. Because the end was so good, they have begun their summer work full of energy and excitement for the future. I am so thankful to work with this community of professionals, and I cannot wait to see how they begin the school year next fall!