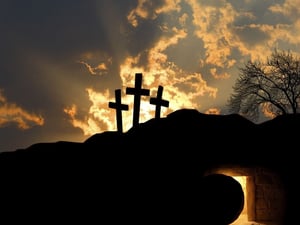 Christians are people of the Resurrection. Without it, Paul says, "We are of all people most to be pitied" (1 Cor. 15:19). We can be confident that we are eternal beings, that Christ has conquered death and the grave, and that to be absent from the body is to be present with the Lord. We will at our deaths be present with our Lord and Savior because we are people of the Resurrection. But what now? How should we live in light of this truth? To put it plainly, the Resurrection should change the way we approach all of life!
A preacher complained about folks "getting saved and then sitting on the pews waiting to go to heaven, looking like a bunch of buzzards on the roost." He wanted to see his people living like people of the Resurrection. Rather than simply preaching the Gospel in hopes that others would join them on "the roost," this pastor wanted his people to live the Gospel by dying for their neighbors every day in service to them, by feeding the hungry and giving to the poor, by defending the weak and freeing the oppressed. He wanted them to walk in the light of the truth, to love God's law, to keep His precepts, to walk in His ways, and to imitate Him in all we do. That is Resurrection living.
Jesus said, "If you love me, keep my commandments (John 14:15). He did not say, If you love me, wait right here as if you're dead, and I'll be back to get you later. Our charge, then, is to do all that our Lord has commanded because we are people of the Resurrection, people with hope. Someone will say, Works won't save you! Keeping those commandments won't earn you a spot in heaven! And I will say, "Amen! Only Jesus can do that!" But I will follow it quickly with James's exhortation that "faith by itself, if it does not have works, is dead" (James 2:17). We keep the commandments because we love this Christ who first loved us, this Christ of the Resurrection. It is He who made us people of the Resurrection, and so it is He who expects us to live like people of the Resurrection. He expects us to live like He lived.
And don't you know that there is oh so much more to it than that! Living in the knowledge of the Resurrection makes everything better! Our food tastes sweeter, our music sounds livelier, our friendships are truer, our work is more fulfilling, and our marriages are beautiful displays of Gospel truth. We of all people have a reason to live joyful lives! And that joy is contagious—that joy is a powerful symbol of Resurrection living. It will make others ask you questions about the hope that is within you, and you can answer boldly, "My hope is in the Resurrection of Christ!" For Christ is risen! He is risen, indeed! Hallelujah!