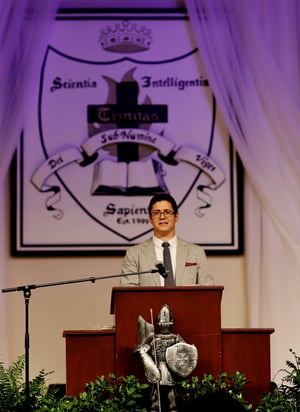 (Trinitas faculty member Mr. Sean Johnson addressed these comments to the graduating class of 2020 at Commencement Exercises on May 29, 2020.)
"Good evening to the board of governors, faculty and staff, families of graduates, and to the 2019-2020 graduating class.
I have always wondered just what it would take for someone to ask me to give a commencement speech. I imagined myself much older, with a long career to look back on, several published books to my name, maybe an online cult following of homeschool moms and a few English teachers who would railroad their administrator into inviting me to speak to their graduates….
All it really took, though, was some poor unfortunate soul on the other side of the planet eating a bowl of tainted bat soup and sparking a global pandemic that would force all life and commerce in America to a grinding halt thus preventing the real commencement speaker from traveling to Florida. I feel like I should have seen that one coming…
Having said that, I am superlatively honored to be here, and I want to thank Mr. Gilley and the Board of Governors for the opportunity to address this class.
The speaker at my own high school graduation was one of my teachers. In fact, he would later be the best man in my wedding. I only mention that in order to inform you that, ya know, I'm available. (I'd even settle for caterer…)
There is a particular poetry in my getting to deliver this address to this group of graduates—my first and last class at Trinitas. I have known most of you longer than I have known my own children. We have lived, travailed, and grown a great deal together since I met you all in 6th grade—you have grown vertically, I have grown horizontally, and we have all grown (I hope) in wisdom and experience.
When you came to me in 6th grade I was still working very hard to make unfamiliar things familiar to you. This is, after all, one of a teacher's primary tasks. The krebs cycle is unfamiliar to a child, the Constitutional Congress is unfamiliar to a child, as are the Monroe Doctrine, the Peloponnesian war, Theban tragedies, prudence, temperance, justice, and fortitude. So a teacher must come along and make those unfamiliar things familiar—turn them from strange ideas about strange men into comfortable notions and close acquaintances.
As students age into middle school and beyond, however, and come to be shaped—to be educated—as much by the world outside of these walls as they are by what happens within them, another of the teacher's primary duties comes to the foreground—the task of making the familiar into the unfamiliar. Lest you come to depend too deeply on unquestioned assumptions and untested ideas, we frequently take what you know (or think you know) and force you to look at it in a new light
This may sound like a cruel thing to do; like Hansel and Gretel's parents taking them into the woods and losing them there. In truth, it may even feel cruel when it is done to you. It never feels good to lose one's bearings or come to the limits of one's knowledge. It bears an uncomfortable similarity to being robbed. But we always bring you back again, and if anything is lost, it is often a necessary loss. Fables and parables perform this function. Nathan the prophet puts David's wicked conduct into a parable, rendering it unfamiliar enough for the king to see his own sin clearly and objectively for the first time. Our Lord does the same to the lawyers, and Pharisees, but also to Peter, and to John whom he loved.
While I am not here this evening to tackle anything so weighty as the sins of David or the Pharisees, I do have a love for you graduates and there is one last familiar thing I would like to render a little unfamiliar, so that you might gain a fuller appreciation of it. That thing is Graduation itself." (to be continued...)