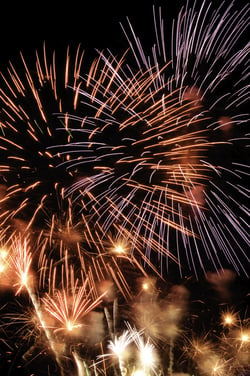 Happy New Year! The older we get, the faster the years seem to come and go. It is as if we began 2022 just yesterday, but 2023 is now upon us. Many of us like to begin each new year by making resolutions—new year, new start. This year I am encouraging Christian parents to make three resolutions for raising Christian children: correct our children according to God's word, eat at least one meal together as a family every day, and engage in family worship or devotions daily.
If we pursue these resolutions diligently and pray continually for guidance and help from the Holy Spirit, 2023 can be a year of great spiritual growth for our families.
Resolve to correct children according to God's word.
Parenting is hard work, and sometimes we find ourselves, tired and frazzled, correcting our children because they have inconvenienced us or embarrassed us or because we just want peace and quiet. What if we put our own desires aside, though, and lovingly corrected our children according to God's word? I encourage you to start with the end in mind. Christian parents all want their children to become God-honoring Christian adults, and training for that begins when they are children—it doesn't happen in the twinkling of an eye when they turn eighteen or twenty-one or thirty-two. So parents have to ask themselves, how does God intend for His people to live? What should Christians do and not do? I suggest spending some time in the epistles of Paul. Books like Ephesians, Colossians, Galatians, and Titus all have some very clear passages about which behaviors Christian people should put off and which ones they should put on. Correct your children for those things. Train them to put off ungodly behaviors associated with what the Bible calls the "old man" and to put on the godly characteristics of the "new man" they have become in Christ. For example, teach them not only to put off dishonesty but also to put on a love for the truth. Correcting your children according to the Scriptures and with the end in mind will cultivate virtue in their lives, replacing sinful habits with godly habits.
Resolve to eat at least one meal together as a family every day.
I know this is a lot to ask for some families because of work schedules and different things, but it is a goal worth pursuing. Any meal will do, but the evening meal is the one I suggest taking together because it affords an opportunity for everyone to talk about how their day went. Debriefing in a safe family setting can be a huge stress reliever for children and parents. It also gives parents an opportunity to teach through things that come up in the normal day-to-day business of life without having to create make-believe scenarios or talk at their children about things that seem irrelevant. Believe me, when you invite your children to talk at the family table, every topic will come up eventually. Besides the teaching opportunity, just eating together is good. God made us for community, and the community found at the family table is truly sweet. I have lingered at table for hours at a time with my family, and those memories are among the fondest I have. Few families have time to linger at the table for hours every evening, but even the short meal taken together daily is edifying and bond-strengthening.
Resolve to conduct family worship or devotions in our homes daily.
I know the reaction many of you have right now is one of horror at trying to lead your family in worship, but let me assure you that if you stick to a few basics, you can hardly go wrong. The ingredients I suggest for family worship are Scripture reading, singing, and prayer. If you are unsure about which passages to read, try working your way through the whole Bible over time by reading just a chapter or two each day. You don't have to spend a lot of time on exposition, just read God's word together. (As your children get older, you will need to be prepared for their questions, which is a good spiritual challenge for you—get prepared.) If that seems like too much, follow a daily devotional from one of your favorite pastors. Follow the reading with a song. Sing songs you normally sing at your church, thereby preparing your family to be better worshippers on Sunday, or just sing a song from the Trinitas Morning Meeting guide. If no one in the family plays an instrument, acapella is just fine. Finally, pray together. In the beginning, it may be necessary for the parents to pray aloud while the children listen, but eventually, everyone should get a turn to pray. This is a great way to teach your children the all-important Christian privilege of going to God's throne of grace in prayer. While family worship should never replace going to church, it is an excellent supplement for your family's spiritual growth.
As a Christian parent, your most important task on earth for a season is to raise your children in the nurture and admonition of the Lord. If you think just taking them to Sunday school or even enrolling them in a private Christian school is enough to accomplish that task, you have woefully underestimated to work ahead of you. You have much to do, but fear not, the Holy Spirit will enable you to do all God has called you to do if you will approach it faithfully, diligently, and prayerfully. I hope these three resolutions for the New Year will give you a practical starting point for the journey. Godspeed!