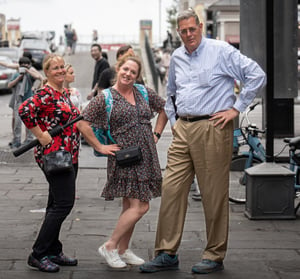 Nearly twenty-five years ago a handful of Christian parents decided they wanted a better education for their children than what was available to them. Trinitas Christian School was born out of the initiative they took to solve that problem. All these years later, parents are still making Trinitas what it is. As we wind down a busy spring semester, filled with events led and staffed by volunteer parents, and head into the summer, it is good to pause here and thank our parents who make Trinitas possible.
Truthfully, Trinitas parents are always in action. Yes, this spring was an especially busy season for them, but it isn't really out of the ordinary. Our school year often starts with a school workday that sees dads cutting shrubs, trimming trees, spreading mulch, painting, and generally getting the school ready for students. Moms clean and organize the kitchen to make sure it is all ready to go for Friday lunches and class feast days which they, themselves, will serve. Thank you, parents! You get the year started right!
Team moms get our sports teams organized, make sure the athletes have plenty of social opportunities, and make sure the coaches and their families are appreciated. And of course, the coaches are parents! What's even better is that some of the coaches are alumni parents—their children graduated, but these parents have stayed connected and involved with the school. What a blessing that is. Parents in every class find themselves driving for field trips and cooking strange dishes for classroom feast days, and we are drawn closer together as a school community through it all. Thank you, parents! Our extracurricular activities would not exist without all your sacrifice.
Then there are the events—those require all hands on deck. Grandparents Day, LoveThyNeighbor, the Winter Ball, the Trinitas Classic Golf Tournament, and the Aesthetics Trip are all major productions that require lots of volunteers. From the leaders who start working and planning a year in advance to the parents who are able to pop in and work a short shift the day of the event, every single person blesses the school with the time and talent they have to give. Whether it happens through meticulous decorating of the venue or staying up all night to smoke a literal ton of pork shoulders, Trinitas events are always first class because our parents are first class. To top it all off, Trinitas students are learning to be great servants of others by working alongside their parents at these events. Thank you, parents! Trinitas events always shine because of you.
Trinitas parents give liberally of their time and talent, but some also have treasure to give. I am always amazed when Trinitas parents step up and give more than generously to meet the needs of the school. While the school is receiving more support from the community than ever before, it continues to receive thousands upon thousands of dollars of support every year from generous Trinitas parents. Thank you, Trinitas parents! Your giving enables us to be who we are.
Trinitas parents are drawn together by their like-minded pursuit of classical Christian education for their children. Working together over time to realize the goals of that pursuit draws them ever closer day-by-day, year-by-year until they become this wonderful ecumenical community of diverse Christians rallying around the things that unify them in their faith and enjoying life together. Without that important element, Trinitas would be just another Christian school. Thank you, Trinitas parents!