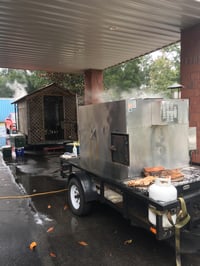 Trinitas has a long and tasty history with barbecue. You might even say it's an integral part of a Trinitas education! Back in the early days of the school, our founding headmaster, Ken Trotter's father, Grandpa Trotter used his meat-smoking prowess to bring school families together for picnics and community-building events. Even Grandma Trotter pitched in with her famously delicious, but always secret sauce. Though the Trotter family has all passed on from our school, the tradition of sharing good barbecue with friends and family still remains - particularly in connection to the annual Trinitas Junior/Senior Aesthetics trip.
Since its founding in 1999, Trinitas Christian School has been providing a classical and Christ-centered education to families in and around Pensacola. By creating a stimulating academic program rooted in an intentionally Christian community, Trinitas seeks to equip students to a life of moral and spiritual integrity, personal and social responsibility, and a zeal to know and serve a holy God. Trinitas students are prepared to contribute both to the kingdom of God and the kingdom of man.
The annual Trinitas Junior/Senior Aesthetics trip is an integral part of a Trinitas education. Each spring, these students along with select faculty members travel to cultural centers such as Washington DC and New York City to continue their education in a real-world setting. A fundamental aspect of classical education is exposure to the true, good, and beautiful. These trips provide students opportunities to experience that through art, music, architecture, and government in ways they never could if their education took place only in Pensacola.
Like many things these past several years, we have had to temporarily adjust our traditions and routines due to circumstances beyond our control. The 2020 Aesthetics trip to New York City was canceled by the advent of Covid, and the 2021 Aesthetics trip was diverted to Dallas, Texas, and combined with a few days of inner-city missions work. This year, Covid has caused us to once again shift away from the typical Trinitas Aesthetics trip destinations with students instead experiencing natural aesthetics while touring a series of National Parks in the Western United States.
Whether slow-smoking pork shoulders or providing students learning experiences outside of the classroom, Trinitas traditions serve to strengthen our community while forming the affections of our students.