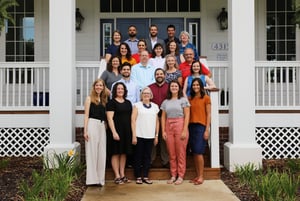 As Trinitas enters its twenty-third year this fall, there will be a host of new faces on our campus. In addition to over twenty new families, we are welcoming a number of new faculty members to the Trinitas community. We thank God for his blessings on our faculty and are eager to introduce these fine folks to you.
Ms. Deborah Kivisalu (Junior Kindergarten)
A.A. in Early Childhood Studies from SUNY, New York
Ms. Kivisalu has been involved in childhood education for many years, beginning with service in children's ministries as a teacher, and also a superintendent, and continuing with the home education of her children for fourteen years. Ms. Kivisalu worked for many years in a public library, an experience that deepened her love and appreciation of children's literature. Ms. Kivisalu has been involved in preschool education for the last six years, serving as a teaching assistant and a lead teacher.
Mrs. Rachel Gasaway (5th Grade)
B.A. in Psychology, Chaminade University of Honolulu
Rachel is a mother of three, two of whom are enrolled at Trinitas. After retiring as a linguist in the US Navy in 2018, she homeschooled and tutored with a classical Christian co-op. She and her husband James, a Naval Officer, attend Covenant Orthodox Presbyterian Church and hope to make Pensacola their place of permanent retirement.
Mr. Branson Sanders (6th Grade)
M. Div., Covenant Baptist Theological Seminary (in progress) B. A. in Christian Studies, Truett McConnell University
Branson has served in ministry for the last few years; most recently as an associate pastor in the Florida Keys. He became acquainted with classical education when he and his wife Hannah began homeschooling their son Gad who will be joining us this year in the 1st grade. Their daughter Jane was born in 2020 and will join Trinitas as soon as she can! His love for teaching and the gospel brought him to Trinitas where he can utilize both in the classroom. Branson plans to complete his Master of Divinity in May 2022 and then pursue his Ph.D. at Puritan Reformed Theological Seminary.
Mr. Samuel Sadler (Humane Letters & Classical Languages)
B.A. in Philosophy, Union University
Samuel Sadler joins Trinitas this year as a recent graduate of Union University. Before that, he attended Paideia Academy, an ACCS school in Knoxville, from K-12th grade. As a son to founding members of the school, Mr. Sadler was raised with heavy involvement in the school and a deep appreciation for classical, Christian education. He is very excited to be a part of Trinitas this year teaching Greek, Latin, and Magna Traditio.
Pastor Kent Langham (Rhetoric)
M.A. in English Literature, University of West Florida B.A. in English Literature, University of West Florida D.edMin. in Biblical Counseling, Southern Baptist Theological Seminary (in progress)
Kent will teach Rhetoric to sophomores this fall. Before joining the Trinitas faculty, Mr. Langham taught English courses at both the high school and collegiate levels. In addition to teaching, he serves as an elder at the Cross Church in Pensacola. He and his wife Molly have been married for six years and have three delightful children, the oldest of which is an incoming student at Trinitas.
Pastor Tim Robson (4th Grade Bible)
Graduate of Theology- Tennessee Temple University
Pastor Robson has been involved in ministry for over 40 years. His ministries included youth pastor, music director, Christian school administrator, weekly radio broadcast pastor, associate pastor, and senior pastor. He served as the Senior Pastor at Eastside Baptist Church in Thomasville, GA for over 30 years. He recently retired in 2018 and moved to Pensacola to be closer to his children.

Pastor Robson celebrated his 50th wedding anniversary in June 2021 and has been blessed with four children and 12 grandchildren.
Miss Catherine Zepp (Teachers' Aide)
Catherine graduated from Trinitas in 2021 and is pursuing a B.S. in Nursing from the University of West Florida. The Zepp family is one of the original founding Trinitas families, and Catherine attended Trinitas since Junior Kindergarten.
Mrs. Anna Pora (Private Music Lessons)
M.A. in Music and B.S. in Music Education, Pensacola Christian College
Anna began playing piano at age 5 and violin at age 12. In college, she joined an ensemble for four tours around the United States playing piano and singing in many schools and churches. Since graduation, Anna has taught private strings and piano both in Florida and New York City. She also plays violin with the Northwest Florida Symphony Orchestra. Anna's desire is to help her students get excited about music while being trained with excellent technique and a classical foundation so they can use their music to bring glory to God and to be a blessing to other people with their musical gifts.

Miss Hannah McNeill (Teachers' Aide)
Hannah graduated Summa Cum Laude from Trinitas in 2020. She is an active member of Providence Church (CREC) in Pensacola and is currently pursuing her Bachelor of Science in Nursing at the University of West Florida. She has six younger siblings (one of which has graduated and five of which currently attend Trinitas).