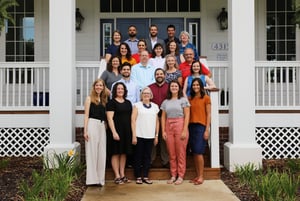 As Trinitas enters its twenty-fourth year this fall, there are a number of new faces on our campus. In addition to sixteen new families, we are welcoming several new faculty members to the Trinitas community. We thank God for his blessings on our faculty and are eager to introduce these fine folks to you.
Mrs. Rebekah Brown (Three-Day Junior Kindergarten)
Undergraduate Studies, Indiana University
Rebekah Brown is the mother of a Trinitas graduate (2020) as well as a current Trinitas student. She homeschooled her three children for seventeen years. A few of her favorite things are reading aloud with her daughter, visiting her grown sons in the mountains of North Carolina, and going on bike rides with her husband Austin.
Miss Courtney Ammons (2nd Grade)
B.S. in Education, University of West Georgia
After graduation, Courtney Ammons moved to Pensacola to reside near family and begin her teaching career. Courtney is an active member of the Cross Church, a Reformed Baptist congregation. Through God's sovereignty and graciousness, Courtney has joined the Trinitas faculty where she is excited to begin her ministry in classical education.
Miss Cate Price (Humane Letters)
B.A. in English, Union University
Cate Price attended Trinitas Christian School from K-4 to 12th grade, graduating in 2018. She spent the summer after graduating from Union in Oxford, England, taking courses on Jane Austen and C.S. Lewis. She is excited to return to the Trinitas family as a faculty member.
Rev. Randy Blankschaen (Greek)
M.Div. Historical Theology, Concordia Theological Seminary, Fort Wayne, IN
B.A. in Theological Languages, Concordia University Wisconsin
Rev. Randy Blankschaen is the pastor of Immanuel Lutheran Church in downtown Pensacola, where he has served since 2010. He loves Classical Christian Education, Ancient Greek, and the Greek of the New Testament. He teaches Greek I and II for the 10th, 11th, and 12th grades. He is married to Lydia and has one son, Theodore, who attends Trinitas.
Mrs. Lynn Dosh (Mathematics and Sciences)
B.S. in Mathematics Education, Appalachian State University
Lynn Dosh has been teaching for the last thirty-three years in homeschool, Christian School, and Classical Christian school. She and her husband have enjoyed teaching 4&5-year-old Sunday school over the years, and they have seven children and five grandchildren.

Mrs. Michelle Hamilton
(Musical Arts)
M.A. of Music Education- USF Tampa
B.S. in Music Education with violin proficiency, minor in Spanish- Pensacola Christian College
Michelle Hamilton has over fifteen years of combined teaching and administrative experience in private schools and music studios. She has taught in New Mexico, Hawaii, Guam, and Florida. Mrs. Hamilton has taught varying subjects, ranging from secondary English and Spanish to Bible and home economics. She has directed school orchestras, bands, and choirs, as well as prepared many private lesson students for competitions and college auditions. As a musician, she plays violin and piano at her church, as well as violin in the Northwest Florida Symphony Orchestra. She is excited to be back in the classroom after taking a hiatus to start a family. Michelle and her husband Ted have two young girls, Evelyn and Rosalyn, the elder of whom is in kindergarten this fall at Trinitas. When not at school, they enjoy traveling, hiking, scuba and surfing.

Mrs. Megan Andzulis (Private Music Lessons)
M.S. in Music Education and B.A. in Music Performance, Pensacola Christian CollegePensacola Christian College
Megan Andzulis has taught music both privately and communally to a variety of ages over the last twelve years. She has had the opportunity to teach and perform not just in the United States but internationally as well, including in Curacao, the Bahamas, and Quebec. Mrs. Andzulis currently serves as the principal accompanist for the Pensacola Children's Chorus and is an adjunct music instructor at the University of West Florida. She and her husband have two children, one of whom is a grammar school student at Trinitas Christian School.