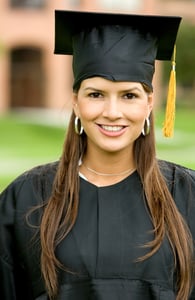 The parent of a senior shared this story with me this week. The scene – after school; the student has something in a plastic bag.
Parent: "Whatcha got?"

Student: "Oh. That's my… robe and……… helmet." (Cap and gown)

Parent: "Classically trained, indeed."
As the mother of a logic student, it was so encouraging to hear an older student viewing his education as part of the armor of God. My daughter and I had just enjoyed a Bible study on Ephesians 6 that evening. Paul states in verses 11-13:
"Put on the whole armor of God, that you may be able to stand against the wiles of the devil. For we do not wrestle against flesh and blood, but against principalities, against powers, against the rulers of the darkness of this age, against spiritual hosts of wickedness in the heavenly places. Therefore take up the whole armor of God, that you may be able to withstand in the evil day, and having done all, to stand."
The graduation cap, what a fitting picture of the armor of our day. I had never thought about that before; but God gave me, through His Word this week and this student's story, that beautiful image. Like this mother, who attributed her son's analogy to a classical and Christ-centered education, I am personally so thankful for this great gift God has given to our family. I pray that through it, God will enable my, and all our children, to "wrestle against… the rulers of darkness" and "to withstand in the evil day." Thanks be to God.